Loading...



Funding for WKSU is made possible in part through support from the following businesses and organizations.
---
For more information on how your company or organization can support WKSU, download the WKSU Media Kit.

(WKSU Media Kit


)
---

Pre-sale tickets available for the Indigo Girls at PlayhouseSquare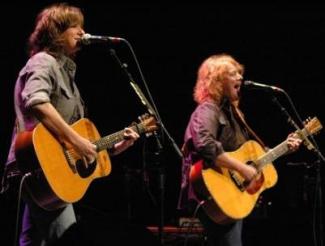 With 14 studio albums under their belt, Grammy-winning folk-rock duo Indigo Girls are known for their beautifully crafted songs that revel in spirited simplicity. Alternating richly textured storytelling with moody ruminations on modern-world worries, their most recent album, Beauty Queen Sister, reveals a fierce longing for a more idyllic existence while still celebrating the extraordinary in everyday living. Thanks to its graceful mix of openhearted songwriting and lush, intricate arrangements, the music of Beauty Queen Sister ultimately allows the listener to slip into the sort of dreamy serenity that Amy Ray and Emily Saliers sing of striving for.

The Indigo Girls come to the State Theatre in PlayhouseSquare on Thursday, Nov. 1. Tickets go on sale to the general public on Friday, Aug. 3 at 11 a.m., but WKSU listeners can purchase seats early this Thursday, Aug. 2 from 11 a.m. to 11 p.m. This performance engagement is a part of the Smart Seats program at PlayhouseSquare that offers smart entertainment at a smart price and tickets start at $10.

Those who wish to do so should use the code WKSU to buy tickets through the PlayhouseSquare box office should click on this link during presale hours.



---
More Features & Events

Hot Picks: This Week's Smart Stuff

Folk Alley.com—All Folk Music! All The Time!