Loading...



Funding for WKSU is made possible in part through support from the following businesses and organizations.
---
For more information on how your company or organization can support WKSU, download the WKSU Media Kit.

(WKSU Media Kit


)
---

Vivian Goodman Inducted into the Cleveland Journalism Hall of Fame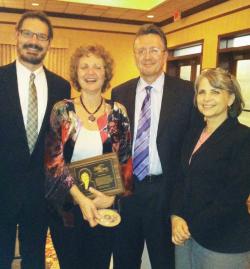 WKSU host and reporter Vivian Goodman has been inducted into the Cleveland Journalism Hall of Fame during an event presented by the Press Club of Cleveland at the Hilton Garden Inn. Other inductees for 2012 include Jim Collins, Ted Diadiun, Vern Henry and Stuart Warner. Plaques for all inductees hang at Nighttown restaurant in Cleveland Heights. The event helped celebrate the 125th anniversary of the Press Club of Cleveland and the 31st class of the Journalism Hall of Fame.

Goodman began her radio journalism career as a University of Chicago student by helping to cover a demonstration outside the trial of the Chicago Eight in 1969. She returned to Northeast Ohio after graduation, working at WHLO-AM in Akron as continuity director. With a sense of wanderlust, Goodman bummed around Europe for a few years – eventually owning a café in Brussels – before coming home. She worked in Cleveland at soul station WABQ-AM, where she met Congressman Louis Stokes. Goodman followed Stokes to Capitol Hill, becoming the Congressman's press secretary. She stayed in the Washington area while transitioning back to radio.

When Goodman started her family, she chose to do so in Cleveland and was welcomed by Leonard Will at WERE. Two years later, she joined Will at the start-up WCPN, where she created the morning talk show After Nine. In 1996, Goodman assumed her present position at WKSU – working again with Will, who was then the station's host of NPR's Morning Edition. Currently, Goodman is WKSU's local host of NPR's Fresh Air with Terry Gross and All Things Considered, as well as a full-time member of the station's award-winning news staff. In 2012, Goodman won numerous first-place awards – including from Associate Press Broadcasters, the Press Club of Cleveland and National Federation of Press Women – for her series on the current status of the LGBT community in Northeast Ohio in advance of the 2014 Gay Games.

Goodman's latest project is Quick Bites, a weekly segment on food, cooking and eating heard Fridays during Hear and Now and All Things Considered. Listeners can find out more about the week's Quick Bites (including pictures of each segment's subjects) on the program's Facebook page.

---
More Features & Events

Hot Picks: This Week's Smart Stuff

Folk Alley.com—All Folk Music! All The Time!