Loading...



Funding for WKSU is made possible in part through support from the following businesses and organizations.
---
For more information on how your company or organization can support WKSU, download the WKSU Media Kit.

(WKSU Media Kit


)
---

WKSU Presents 'A Fragile Trust' at the Cleveland International Film Festival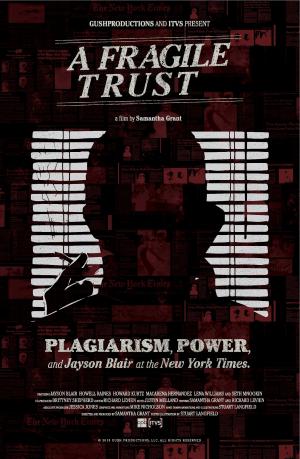 Scandal struck the New York Times when it was discovered that prolific Times reporter Jayson Blair plagiarized a story about a missing soldier in Iraq. Investigations revealed this was just one of a stunning series of fabrications and plagiarisms he perpetrated over the years, including such high profile stories as the D.C. snipers and "war hero" Jessica Lynch. A Fragile Trust is primarily Jayson's story, a man who is incapable of handling the responsibility of a sacred public trust. But Jayson is only one part of a much larger and more involved story. In a rapidly changing landscape, where technology creates consumers who demand a never-ending stream of news, this is the narrative of a revered institution trying to maintain both a reputation born of tradition and a global audience constantly on the hunt for something new.

A Fragile Trust will be screened three times:
Thursday, March 20 at 9 p.m. at the Apollo Theatre in Oberlin
Thursday, March 27 at 9:45 p.m. at Tower City Cinemas
Friday, March 28 at 4:15 p.m. at Tower City, followed by a film forum panel discussion on journalism ethics featuring WKSU Reporter and Digital Editor M.L. Schultze.

Regular ticket prices are $12 for CIFF members, $14 for non-members, and $12 for students and seniors the day of the show. By using the code "WKSU," station members can receive a $2 discount on their CIFF tickets good for any Festival Film (unless otherwise specified). Members can purchase tickets online at www.clevelandfilm.org, through the Ulmer & Berne Film Festival Box Office in the lobby of Tower City Cinemas, or by phone at 877-304-FILM (3456).



---
More Features & Events

Hot Picks: This Week's Smart Stuff

Folk Alley.com—All Folk Music! All The Time!