Loading...



Funding for WKSU is made possible in part through support from the following businesses and organizations.
---
For more information on how your company or organization can support WKSU, download the WKSU Media Kit.

(WKSU Media Kit


)
---

WKSU Member Nights at Blossom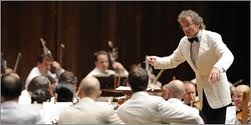 Show your WKSU member card at time of purchase and buy up to eight half-priced tickets for select Blossom Festival concerts. This offer cannot be combined with other discounts. Summer 2014 WKSU member nights at Blossom include:

Saturday, July 19 at 8 p.m.: A Taste of Spain
Guest Conductor Bramwell Tovey and the Cleveland Orchestra welcome mezzo-soprano Emily Fons and Karen Gomyo on violin for Bizet's Suite from Carmen, Violin Concerto No. 3 by Saint-Saens and Falla's The Three-Cornered Hat.

Saturday, July 26 at 8 p.m.: Beethoven and Liszt
Kent/Blossom Music's annual "side-by-side" concert offers selections by Ravel and Wagner under the direction of Brett Mitchell at 7 p.m. before Conductor John Storgards makes his Cleveland Orchestra debut, joined by Stephen Hough on piano for Beethoven's Overture to Fidelio, Liszt's Piano Concerto No. 1 and Symphony No. 2 from Sibelius.

Sunday, August 10 at 7 p.m.: A Midsummer Night's Dream
In his Cleveland Orchestra debut, Conductor Jeffrey Kahane and guest soloist Peter Otto on violin offer a romantic evening of music, including Stravinsky's suite from Pulcinella, Haydn's Violin Concerto No. 1 in C Major, and two works by Mendelssohn: Music from A Midsummer Night's Dream and Symphony No. 4 ("Italian").

Saturday, Aug. 30 at 7 p.m.: Family Funfest at Blossom
Labor Day fun for the whole family! Bring the kids and share in the magical experience of Blossom with a fun-filled concert under the direction of Richard Kaufman with guest vocalist Whitney Claire Kaufman – featuring tunes from The Little Mermaid, The Wizard of Oz, Spiderman, 2013's hit movie Frozen, and more – as well as Wheel of Fortune's very own Pat Sajak. Featuring great family-friendly activities and a spectacular fireworks show!

---
More Features & Events

Hot Picks: This Week's Smart Stuff

Folk Alley.com—All Folk Music! All The Time!