Loading...


Arts and Entertainment




Thursday, November 21, 2013




Cleveland Orchestra plans an even greater presence in Europe




The Orchestra's European Advisory Board aims for greater reach and more financial support


by WKSU's VIVIAN GOODMAN
This story is part of a special series.



Reporter
Vivian Goodman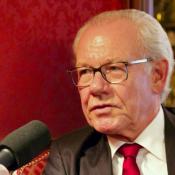 Dr. Wolfgang Berndt is a Trustee of the Cleveland Orchestra and a lifelong devotee of classical music.
Courtesy of Zachary Duvall
Download (WKSU Only)
In The Region:
The Cleveland Orchestra tour of Europe reaches its finale tonight at Vienna's famed Musikverein, but we're beginning to hear the overture of an expanded presence in Austria and the other European nations. At the intermission of last night's concert Executive Director Gary Hanson announced that the orchestra will return to Vienna sooner than expected for concerts next year at both the Musikverein and the Vienna Konzerthaus.

WKSU's Vivian Goodman has been following the tour and spoke with the vice chairman of the Cleveland Orchestra's European Advisory Board.
There are no greater classical music fans in the world than in Vienna, thanks in part to its magnificent concert hall, the Musikverein. Classical music history has been made there since Emperor Franz Joseph I gave the city's musical association the land for the building in 1863. It's in the same neighborhood in Vienna where Cleveland Orchestra Music Director Franz Welser Most has a residence.

Welser Most also has a home in Attersee, Austria, and that is where his neighbor Dr. Wolfgang Berndt became his friend. Berndt now serves as the Vice Chairman of the orchestra's European Advisory Board.

Berndt envisions a stronger presence in Europe for the orchestra, expanding on the biennial residency in Vienna.

By the way...We promised not to spoil the surprise of Vienna State Opera Chief Librarian Peter Poltun's gifts to the orchestra presented at one of the final rehearsals this week at the Musikverein. But now we can tell you it was an original score of Shostakovich's 8th and an autographed photo of the composer.
---
Support for WKSU Coverage of the Cleveland Orchestra European Tour 2013 provided by:



---
---
---