Loading...


Economy and Business




Thursday, March 1, 2012




Auto bailout having limited impact on buyers and voters




Northeast Ohioans at the Cleveland Auto Show are considering style and substance, not the 2009 bailout, when it comes to car buying – and presidential candidates


by WKSU's KABIR BHATIA
This story is part of a special series.



Reporter
Kabir Bhatia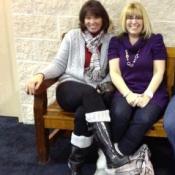 Robin Piccirillo (left) and Rose Ursetti (center) are looking at new cars, regardless of where the automakers' get their money.
Courtesy of K. Bhatia
Download (WKSU Only)
In The Region:
Northeast Ohioans at the Cleveland Auto Show will be browsing GM and Chrysler vehicles that may not have existed without government money. But, as WKSU's Kabir Bhatia reports, they're considering style and substance, not the 2009 bailout, when it comes to car buying – and presidential candidates.
Just a week before Ohio's primary, all the GOP presidential candidates are explaining their opposition to the bailout of the auto industry.

The $80 billion deal kept GM and Chrysler – and auto suppliers throughout Ohio – going. It also led to retired marques, closed dealerships, union concessions and other cost-cutting. And it's put GM back on top as the world's biggest car company.

Still, both Republican frontrunners Mitt Romney and Rick Santorum have blasted President Obama's decision, calling it another sign of government invading commerce.

None of that seems to matter at the Cleveland Auto Show, where hundreds of gleaming new vehicles are scattered around the I-X Center in somber displays, replacing the carnival atmosphere of yesteryear.

Robin Piccirillo of Mayfield Heights is considering Ford and Chevy for her next car, bailout or not.

"It really doesn't matter to me; what matters to me is the quality of the vehicle. And the gas mileage. Good for Ford, I mean they were on their own and I think they came back in a big way. But as far as making my decision and what I would buy, that really doesn't sway me either way."

Piccirillo, and many others shopping the auto show, seems more pleased with the cars than the presidential candidates – from both parties. Terry Clark of Brunswick summed up the sentiment.

"It's amazing how they don't have any values any more. It's just amazing to me. I mean they all talk that, but then later on they all get caught doing something. Every one of them. I don't care -- Republican, Democrat -- it don't matter. I mean it's amazing."

Rose Ursetti from Highland Heights says the bailout was necessary to preserve jobs. But she also expects it will have minimal effect in the election and in showrooms.

"I look at the quality of the car, the look of the car... that's what I look at."

Still, after winning Michigan's primary last week and Ohio's coming next Tuesday, Mitt Romney has been explaining his 2009 argument that private capital would have shored up the auto manufacturers. His cohorts maintain that GM and Chrysler, already headed to bankruptcy, would have seen their market share and workforce absorbed by Ford and Toyota.

But economists and the White House say private capital was offering nothing to the car companies, making the government the last resort. And they say the auto supply chain -- from parts manufacturers to repair shops -- would have crumbled, sucking down Ford as well as GM and Chrysler.
---
---
---