Loading...


Government and Politics




Monday, March 5, 2012




Romney drills down on Obama in Ohio




Ignores other GOP presidential candidates on the even of Super Tuesday


by WKSU's M.L. SCHULTZE
This story is part of a special series.



Web Editor
M.L. Schultze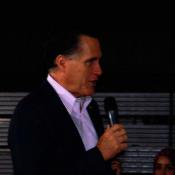 Mitt Romney campaigned in Canton against President Obama, not his GOP rivals.
Courtesy of M.L. Schultze
Download (WKSU Only)
In The Region:
Mitt Romney and Rick Santorum are campaigning in a half-dozen Ohio cities today as they try to lock up the undecided votes heading into tomorrow's GOP presidential primary. But increasingly, the two are ignoring each other. WKSU's M.L. Schultze has more from Romney's campaign stop in Canton this morning.
Mitt and Ann Romney began the day with a speech at a 100-year-old galvanizing plant in Canton industrial southwest corner. It's the kind of place that Romney says shows the value of focus – something he claimed President Obama should have done with jobs.
"He instead went off on a whole series of other things he wanted to do .He put in place Obamacare; that didn't get people back to work. He pushed Dodd-Frank, 2000 pages of regulations for the banking industry. That didn't put people back to work. He focused on card-check to try and force union where employees didn't want them."
Romney never mentioned his main GOP rival – Rick Santorum – by name, though his speech and Santorum's echo each other when they talk about less regulation, cuts in taxes, more drilling for oil and what they see as the special destiny and hope of America. Three polls out since Friday show the two candidates are running even among GOP voters expected to vote tomorrow.
---
---
---