Loading...


Government and Politics




Tuesday, March 6, 2012




Why is the GOP so attracted to Steubenville?




River town may represent 2012's "Reagan Democrats"


by WKSU's TIM RUDELL


and

M.L. SCHUTLZE


This story is part of a special series.



Reporter
Tim Rudell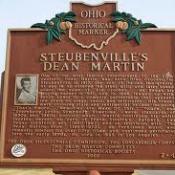 The Ohio River town of Steubenville has gotten a lot of attention from Republicans this year
Download (WKSU Only)
In The Region:
GOP presidential hopeful Rick Santorum is hosting his post-Super Tuesday election event tonight in Steubenville. The river town is in Ohio, yet aligned in many ways with Santorum's native Pittsburgh area – including being Steelers fans. But Steubenville also aligns with Santorum in other ways. WKSU's Tim Rudell's TV broadcasting career began in the panhandle area, and spoke with News Director M.L. Schultze about why Republicans may be gravitating to places like Steubenville – not just now, but in the fall.
That's WKSU's News Director M.L. Schultze and Reporter Tim Rudell. Rudell will be reporting from Steubenville and Santorum's event tonight.
---
---
---