Loading...


Ohio




Tuesday, March 6, 2012




Santorum supporters at the polls in Ohio




Voters cite Santorum's family values as why he should be the next president



This story is part of a special series.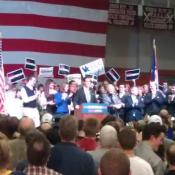 Santorum's followers gathered in Steubenville for the GOP hopeful's post-election event.
Courtesy of Laura Fong
Download (WKSU Only)
Mitt Romney did better in the northeast and other urban areas of Ohio than Rick Santorum. But the former Pennsylvania senator still found plenty of supporters throughout this region, as well. Many were struck by his argument that social values are key to economic recovery. And others just see him as the most distinct – and therefore best – alternative to President Obama.
Maryanne D'Andrea: "Unless we solve some of these things as far as families being stronger, fathers being in the home and having a lot of single mothers that go into poverty. If we solve a lot of those problems, a lot of our economic problems will be better and I think he sees that. You have to start at the root of the problem to get to the fix."

Frank Larson: "I think Newt Gingrich is the most brilliant of the forerunning, I think Governor Romney is a good businessman and there's a lot of things I like about Ron Paul and what he says, but I think Rick Santorum is the guy that's going to be a good, steady leader."

Gary Renalli: "I do have a problem with our president that we currently have, so I'll vote for any one of them. I just thought, just listening to the debates, he drew my interest more."

Those are GOP presidential primary voters Maryanne D'Andrea of Cuyahoga Falls, Frank Larson of Monroe Falls and Gary Renalli of Canton.
---
---
---
Stories with Recent Comments