Loading...


Government and Politics




Wednesday, March 7, 2012




DeWine sees way for Santorum to win despite narrow Ohio loss




Ohio AG continues to support former colleague in D.C.




by WKSU's STATEHOUSE CORRESPONDENT BILL COHEN


This story is part of a special series.



Reporter
Bill Cohen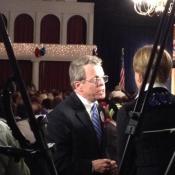 Ohio Attorney General Mike DeWine served with Rick Santorum in the Senate and is supporting him for in his run for the GOP presidential nomination
Courtesy of M.L. Schultze
Download (WKSU Only)
Ohio backers of Rick Santorum for president aren't ready to give up on him, despite his narrow loss in the Ohio primary election to Mitt Romney. Romney roared back from a double-digit deficit in one poll to nip Santorum in the actual voting by about one percentage point. Ohio Attorney General Mike DeWine had been an early supporter of Romney. Then, a few weeks ago, he endorsed Santorum. In the wake of Santorum's narrow defeat, DeWine says Santorum has the ability to win elections. DeWine talks here with statehouse correspondent Bill Cohen.
That's Ohio attorney general Mike DeWine, giving his spin on Rick Santorum's narrow election loss to Mitt Romney in the state's republican presidential primary.
---
---
---