Loading...


People




Wednesday, April 18, 2012




President Obama arrives in Northeast Ohio




He's heading to Elyria for a speech on the economy


by WKSU's KEVIN NIEDERMIER
This story is part of a special series.



Reporter
Kevin Niedermier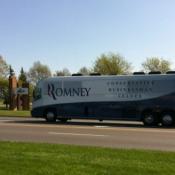 The Romney campaign and state GOP are using the event to underscore what they claim is the president's failure.
Download (WKSU Only)
In The Region:
President Obama has arrived in Northeast Ohio and is heading to the Lorain County Community College campus, where he's planning to give a speech at 2:30 on the economy.

He's also using the event to highlight how Republican budget cuts would eliminate successful job-training programs like one on the Lorain campus.

The president was greeted not just by supporters, press and the public. The campaign of likely GOP presidential candidate Mitt Romney rolled in with a bus and a message that the president's economic policies have been a failure.

After his stop in Northeast Ohio, the president is headed to Michigan. Both are considered swing states in the November election.
Here's a preview of the President's talking points to be delivered at Lorain County Community College:

The programs at Lorain County Community College and its affiliated One-Stop Career Center rely on federal funding to the area ($4.5 million in 2012, for Lorain County) through the Workforce Investment Act (WIA).
The House budget written by U.S. Rep. Paul Ryanwould cut spending on discretionary programs like WIA by 5 percent-plus in 2013, and 19 percent in 2014.
Cuts in federal employment and training programs would eliminat services to 13,000 Ohioans in 2013 and 37,000 in 2014.
The president has proposed a community-college-to-career fund to buiuld stronger relationships between training and job openings, and other displaced worker and job training programs.
---
---
---