Loading...


Government and Politics




Sunday, June 17, 2012




Romney attacks Obamacare in Brunswick




First of three Ohio stops today for GOP contender


by WKSU's KABIR BHATIA
This story is part of a special series.



Reporter
Kabir Bhatia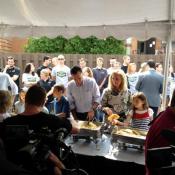 Romney and his wife served pancakes alongside Ohio Republican Sen. Rob Portman and his wife
Courtesy of K. Bhatia
Download (WKSU Only)
In The Region:
Mitt Romney was in Brunswick Sunday, one stop on his bus tour where he served up pancakes and promises to a damp Father's Day crowd. WKSU's Kabir Bhatia reports.
The presumptive Republican nominee touted his energy and economic ideas while attacking President Obama's healthcare plan as an impediment to job growth.

"You can go to a corner store, or a manufacturing business, and ask the person behind the counter, 'Did President Obama's policies make things better or worse for your business?' And what you're going to hear is this: 75 percent of those surveyed said that law made it harder for them to hire people."

Romney made no reference to the parallels that have been drawn between the Obama plan and one passed while Romney was governor of Massachusetts.

Neither did supporters like registered nurse Val Grzybowski of Strongsville.

"Cleveland Clinic, University Hospital, we're greatly affected by Obama's mandates. I don't like the way Obama's going about the socialization of medicine and I'm just glad that there's somebody else that's willing to let the public sector do their own thing."

After his speech, Romney dished out pancakes with potential running mate, Ohio's Republican Sen. Rob Portman.
---
---
---