Loading...


Ohio




Wednesday, June 27, 2012




Ohioans like Obama better, and other poll results




Newest Quinnipiac poll includes good news for president in three wing states




by WKSU's STATEHOUSE CORRESPONDENT BILL COHEN


This story is part of a special series.



Reporter
Bill Cohen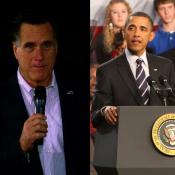 The latest Quinnipiac Poll shows President Obama with a growing lead over Mitt Romney.
Download (WKSU Only)
In The Region:
In May, an independent poll on the presidential race in Ohio showed it was too close to call. But now, those same pollsters have found a surge of support for President Barack Obama. Statehouse correspondent Bill Cohen has the latest numbers.
SUMMARY OF OHIO RESULTS FROM THE QUINNIPIAC POLL
PRESIDENTIAL RACE:
Men split with 45 percent for Obama and 42 percent for Romney. Women go Democratic 50 to 35 percent.
White voters tip to Romney 45 - 41 percent. The president wins 92 percent of black voters, with 6 percent undecided and no measurable black support for Romney.
The president leads 85-5 percent among Democrats and 45-36 percent among independent voters, while Republicans back Romney 84-5 percent.
Obama gets a 50-44 percent favorability rating, compared to Romney's negative 32-46 percent favorability score.
Ohio voters give the president a split 48-46 percent job approval rating and say by a tepid 49-46 percent that he deserves to be reelected.
Voters say 47-42 percent, however, that Obama would do a better job on the economy than Romney and say 47-42 percent that the president would be better for their personal economic future.
Voters back Obama's immigration policy 52-38 percent and say 45-38 percent he would do a better job than Romney on immigration.
OTHER POLITICS:

Gov. John Kasich gets a slightly negative 40-44 percent job approval rating from Ohio voters, continuing an 18-month run of negative scores with the exception of a tie in March. Women disapprove 46-36 percent while men split 44-43 percent.


In Ohio's U.S. Senate race, Democratic incumbent U.S. Sen. Sherrod Brown tops State Treasurer Josh Mandel, the Republican challenger, 50-34 percent.

---
---
---