Loading...


Government and Politics




Friday, July 13, 2012




Ohio's Senate candidates in their own words




Brown, Mandel present sharp contrast in style, beliefs, and background




Story by

BILL RICE


This story is part of a special series.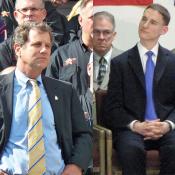 Democratic incumbent Sherrod Brown (left) and Republican challenger Josh Mandel present voters with sharp contrasts to choose from in the race for U.S. Senate.
Download (WKSU Only)
Ohio's race for U.S. Senate is a case study in sharp contrasts: 60s-era liberal incumbent Sherrod Brown, with three-and-a-half decades of elective experience, fighting off a young, conservative challenger, Josh Mandel, who decries most of the programs and policies Brown champions. From Ohio Public Radio Station WCPN in Cleveland, Bill Rice reports.
---
---
---
Stories with Recent Comments