Loading...



From WKYC.COM / TV 3
Get the latest school closings and delays


Funding for WKSU is made possible in part through support from the following businesses and organizations.
---
For more information on how your company or organization can support WKSU, download the WKSU Media Kit.

(WKSU Media Kit


)
---

Government and Politics




Tuesday, July 31, 2012




LaTourette retiring from Congress




Nine-term congressman says Washington's atmosphere has worn him down


by WKSU's JEFF ST. CLAIR
This story is part of a special series.



Reporter / Host
Jeff St. Clair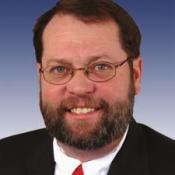 Rep. Steve LaTourette (R-Bainbridge Twp.) is expected to announce his retirement from Congress today.
Download (WKSU Only)
In The Region:
Nine-term Republican Rep. Steve LaTourette has decided not to seek re-election in November. Ohio Republican Party Chairman Bob Bennett says LaTourette told him that he won't be a candidate in November. Bennett wouldn't comment on LaTourette's reasons for retiring. LaTourette has scheduled a news conference at 10 a.m. this morning at his district office in Painesville, Ohio. LaTourette was unopposed in the March GOP primary and does not have a strong challenger in November's general election. LaTourette's 14th district includes Lake, Geauga and Ashtabula counties and parts of Cuyahoga, Portage, Summit and Trumbull counties. The Washington Post reports that LaTourette decided to retire over a dispute with leadership on committee assignments.
---
---
---