Loading...


Government and Politics




Friday, August 10, 2012




Geauga prosecutor is Ohio GOP pick for Congress




David Joyce replaces long-term incumbent Steve LaTourette on the November ballot




Story by

KABIR BHATIA AND M.L. SCHULTZE


This story is part of a special series.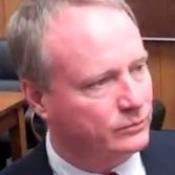 County Republican officials unanimously selected David Joyce to run for the 14th Congressional District in November.
Download (WKSU Only)
In The Region:
Northeast Ohio's Republicans have unanimously picked Geauga County's prosecutor to replace Congressman Steve LaTourette on the November ballot. The 14 leaders of the Republican parties in the seven counties that are part of LaTourette's district spent just a few minutes organizing procedures before picking David Joyce this afternoon. Joyce then scheduled a press conference on the steps of the Geauga County courthouse. LaTourette announced last week that Washington politics had dissuaded him from running for a 10th term in November. But his withdrawal from the race didn't take effect until Wednesday, which means party officials got to pick his successor, rather than forcing a party-primary vote. Democrats now have a perennial long-shot candidate running for the seat, Dale Blanchard. And despite pressure from his party, he's refusing to remove himself so Democrats can replace him with someone they think has a better chance of winning. The district is fairly evenly divided among Democrats and Republicans, but LaTourette's popularity had made it very unlikely a Democrat would win the district.
---
---
---
Stories with Recent Comments