One-time Republican presidential candidate Rick Santorum paints the November election as an important chance for the nation to recover.
"We are experiencing a heart attack as a country right now. We are in a lot of pain, we are not functioning well, and there is something at the heart of America that is wrong -- with this president and what he is doing to this country."

A receptive crowd
Jerry Egel was way ahead of him.
"This country's going to take one of two paths. It is going to go down the road of individual liberty and freedom and prosperity or it's going down the road of socialism, where the government is going to be looked at as the provider of all good will."
Egel was one of about 250 Republicans crowded into the ornate side room of the Tangiers in downown Akron. They cheer as Santorum talked about taking the country back, and clapped longest and loudest when Santorum praised his former rival, Mitt Romney's, pick of Congressman Paul Ryan as his running mate.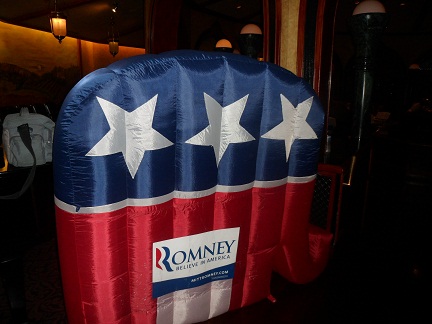 "I don't want to put too much on Paul Ryan's back. He's going to have enough to carry. … What Paul Ryan stands for in conservative circles and in the media and in this country for those who know him is someone who is willing th challenge the status quo and has bold ideas to confront the problems in this country in a truthful fashion."

Santorum accuses Obama of illegal power grabs
But most of Santorum's speech was reserved for attacks on President Obama. The crowd repeatedly nodded and jeered as Santorum accused President Obama of a wild overreach for power. First he cited the president's decision not to deport young people brought to this country illegally as children.
"Let's just be very clear. … What the president of the United States said in saying that he is no longer going to enforce the law of this country with respect to close to a million people is a frightening thing in American politics, I would argue an unprecedented thing. When the president of the United states can stand up at a microphone and give a speech and change the laws of this country, we no longer live in a republic."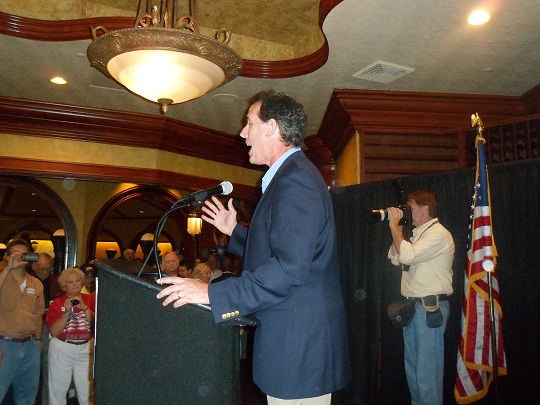 Then he moved onto welfare, including repeating the accusation that waivers for state pilot programs are a way to undercut the welfare reform Santorum and Bill Clinton were part of back in the 1990s.
"We said you can't waive these two things. Work and timeliness. And yet the president just broke the law. …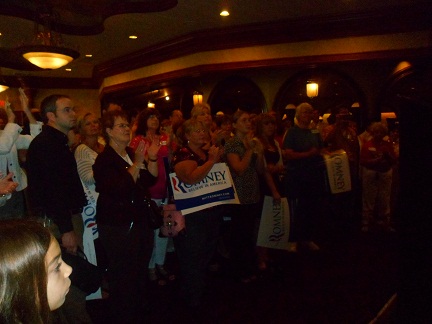 (To which the crowd responded, "guilty, burn him, sue him.")
Bunk, say Democrats
Sandra Kurt and Tamela Lee were having none of it. They're Summit County councilwomen. And Democrats. And they came to the Santorum speech as kind of designated fact-checkers.
"Trying to say that the president is trying to get rid of the work requirement. That is completely false. There's no basis in reality or in truth in that. The New York Times has said that, the Washington Post has said that. Politifact has said that. People need to be aware. They need to do their homework and make sure that they know the truth."
And Lee said the work requirements for counties under the Obama administration are stricter than in the past.
But Lee found one point of agreement with Santorum.
"In my lifetime I have never seen an election where the choices were so radically, polarly different. I don't want my children and my grandchildren to not have the same opportunity that I had to go to school. That's America. He started talking about the American Dream. We are the American Dream."
Both the big crowd of Republicans and the Democratic counter team are expected to be out in force again in Northeast Ohio this morning, when the GOP's likely vice presidential pick – Paul Ryan -- will be speaking at Walsh University in Stark County.