Loading...


Government and Politics




Sunday, August 19, 2012




Renacci, Sutton agree to only one debate, for now




Two incumbents vying for 16th district cite different reasons not to debate


by WKSU's KABIR BHATIA
This story is part of a special series.



Reporter
Kabir Bhatia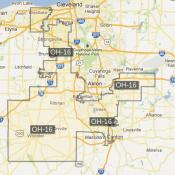 The new 16th stretches much further north and west than the old
Courtesy of govtrack.us
Download (WKSU Only)
In The Region:
The newly drawn 16th Congressional District is more expansive than the one that was dominated by Stark County for a century. The new lines also tiptoe in and out of Medina, Wayne and Ashland counties. And that's setting up a contentious race between two incumbents: Republican Jim Renacci and Democrat Betty Sutton. WKSU's Kabir Bhatia spoke with University of Akron political scientist Dave Cohen about the latest skirmish – where and when the candidates will debate.

Jim Renacci wants to debate in Wooster, at the only proposed location that's actually within the new 16th district. But it's sponsored by the local chapter of the Chamber of Commerce, which has become increasingly partisan – and to the right – in recent years.

Betty Sutton wants to spar in Medina County and North Canton, both within the current 16th -- but just outside the new boundaries -- because she says those events will be non-partisan.

But the only event the pair has agreed to is the City Club of Cleveland, the center of Northeast Ohio's TV market.

The University of Akron's Bliss Institute of Applied Politics had offered to sponsor the Medina County event, at the university's branch campus about a half-mile outside the line for the new 16th. A statement from Renacci cited geography as his reason for saying no. But Bliss political scientist Dave Cohen says Renacci could be avoiding Medina for a very simple reason.
That's Dave Cohen with the University of Akron's Bliss Institute for Applied Politics.

Renacci won the 16th district two years ago by beating one-term incumbent Democrat John Boccieri. But the seat had been held for about six decades by Republicans.

Sutton has represented Ohio's current 13th District since 2007, but Ohio's GOP lawmakers drew most of her district out of existence last September.

In addition to the City Club event on October 10, each candidate will spend an hour separately with the Jefferson Action forum on October 6.
---
---
---