Loading...


Government and Politics




Friday, September 14, 2012




Romney hits economy in Painesville




Tells Lake Erie College crowd we "can't afford 4 more years" of Obama


by WKSU's KABIR BHATIA
This story is part of a special series.



Reporter
Kabir Bhatia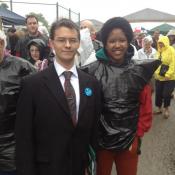 International Business student Kiarra Jones (right) was in the soggy crowd of more than 2,300 who came to hear Mitt Romney in Painesville.
Courtesy of Carl Carlson
Download (WKSU Only)
In The Region:
Mitt Romney hammered President Obama on the economy during an appearance in Painesville Friday. WKSU's Kabir Bhatia reports.
Romney was delayed by both the rain, and from watching coverage of the bodies of four Americans killed in Libya on Tuesday. He opened his speech asking for a moment of silence.

Bob Patterson from Concord appreciated the gesture and feels Romney has struck the right balance on the issue.

"I think it was very appropriate. And I don't think he did anything wrong, commenting on the first press release from the State Department. I think he hit it right on the head. Maybe he should have waited a day, and he probably realized that."

The moment of silence also went over well with Kiarra Jones. She's studying international business at Lake Erie College, and was just excited to see a public figure on campus. But Romney's speech only cemented her vote for Obama.

"I don't think he talked enough about what he was going to do for me. It was just, like, a politician's speech. Like, 'I'm here, vote for me, and I'm gonna do well for you guys.' I don't think he actually said anything of substance."

Jones is also unimpressed by Romney's stance on education. But in his speech, the former Massachusetts Governor said he wants to expand job training, and he hit back at Obama's economic record.

"When the President was sworn in office, we had about a $10 trillion debt. Today we have $16 trillion. Think about that; all the presidents before him added up to $10 trillion. In one term, he's gotten us to $16 trillion. There will not be a second term. We can't afford a second term."

Romney also said he would reduce taxes and regulation on small businesses, repeal the healthcare overhaul and increase fracking.
---
---
---