Loading...


Government and Politics




Sunday, September 16, 2012




Ohioans ponder fiscal responsibility




Comeback America Town Hall meeting gauges support for everything from defense cuts to healthcare overhaul


by WKSU's KABIR BHATIA
This story is part of a special series.



Reporter
Kabir Bhatia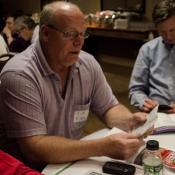 Sid King from North Olmsted says the U.S. should have stuck with the Constitution for the past 100 years, because "you can't change something that's perfect." He led his table through some complex debates to arrive at a better understanding of the reforms being presented
Courtesy of Robert Sustersic
Download (WKSU Only)
In The Region:
Ohio is among the swing states being targeted by the Comeback America Initiative, which is pressing voters to consider fiscal responsibility – including raising taxes, cutting defense spending and changing entitlement programs – in this fall's election. As WKSU's Kabir Bhatia reports, our state is one of only two hosting town hall meetings to gauge support for the group's non-partisan reforms.
Health care. Medicaid. Defense. Redistricting. Taxes.

They've been hot buttons in the past, and they're all at the forefront of this year's election.

Ohio is at the forefront, too; the swing state is a microcosm of the nation. That's why the Comeback America bus tour held its first town hall meeting of the year in Strongsville. About 120 people discussed and debated the merits of a parcel of reforms they might like to see.

Things like suspending Congressional salaries until members pass a budget. Participants were presented with plans to base military pay on a soldier's risk and responsibility. Whether capital gains should be taxed at the same rate as personal income. If the government should be forced to come up with a strategic business plan. If World War II-era military bases in Europe and Japan should be closed.

Every time, the answers came back affirmative, with majorities of at least 76 percent and sometimes as high as 94 percent.

More than you need in Washington
David Walker, the folksy former comptroller general of the U.S. who served under both Republican AND Democratic presidents, is head of Comeback America. And his bi-partisan backers include former heads of both the Republican and Democratic parties. Walker says many of the reforms are in his 2010 book, "Comeback America: Turning the Country Around and Restoring Fiscal Responsibility."

"I was pleasantly surprised with the degree of support across the board, including for health care, Medicare, Medicaid and Social Security, given the fact that this audience had a lot of seasoned individuals."

A microcosm of the state
Participants for this weekend's town hall were not picked at random. Comeback America asked those interested to apply, and then tried to pick a cross-section that roughly parallels the voters in Ohio. And it ended up with 35 percent of participants identifying as Democrats, 29 as Republicans and almost as many independents, though the group did skew a little older and whiter and more female than the Ohio population in general.

The town hall broke them into tables of 6 and the whole presentation lasted just over four hours.

Sid King from North Olmsted says any spirited debates in his group came from how questions were framed.

"We've talked about, 'This one is good, maybe these two are not so good.' But still, we're asked to answer a question based on all of them, together. There's a lot of good ideas, and I wish our elected officials would talk about them all."

The Medicare issue
Like most of the participants, his vote for president this year is already decided – though he didn't say to whom. Also, like three-quarters of the participants, he's over 55, and Medicare and Social Security are not abstracts for him.

They come under the umbrella of "social insurance" for David Walker. And given the slight graying of those in the room, he made sure to point out that the hypothetical social insurance reforms he's backing would be gradual, and probably would not affect anyone currently over 55.

"You cannot put our financial house in order without renegotiating the social insurance contract, without making pretty dramatic reforms to our health-care system. We're the only major nation in the world that doesn't have a budget on what it spends on health care. So we're gonna have to deal with that."

Meredith Benson is in her early 20s and studying political science at Kenyon College. She agreed with the crowd -- for the most part.

"I think that maybe they might have some opinions that are resonating within them that are contrary or not completely agreeing with what our presenters are proposing. That being said, I don't necessarily think they're against it, but maybe they have something else they believe is stronger or a little bit different. But everybody's entitled to their opinion."

Surprising agreement
Two sets of reforms – defense cuts, and whether the government should provide a basic level of health care – got strong support. That was a surprise to Comeback America researchers, given the partisan divides over the topics in Washington.David Walker says the Comeback Initiative has six criteria to measure any proposal.

"Pro-growth, socially equitable, culturally acceptable, politically feasible, and meaningful bi-partisan support."

Figures and facts
The sixth pillar is that it pass a math test.

Walker told the crowd that tax revenue from individuals is five times the total from corporations. That the U.S. spends twice as much per person on health care compared to other industrialized nations and gets less effective results. That, on a list of military spending by nation, the U.S. tops the next 20 countries combined.

But the most surprising figures came at the end of the town hall.

Ninety-two percent of people felt Congress should adopt the reforms discussed. And 90 percent didn't think Congress can agree on any solution to the fiscal crisis in 2013.
---
---
---