More than 6,600 crammed the MAC Center in Kent to hear the President. Maybe it was the friendly crowd or maybe it was the three recent polls that found Mr. Obama ahead of Mitt Romney by 5 to 10 points, but the president looked to be in a good mood.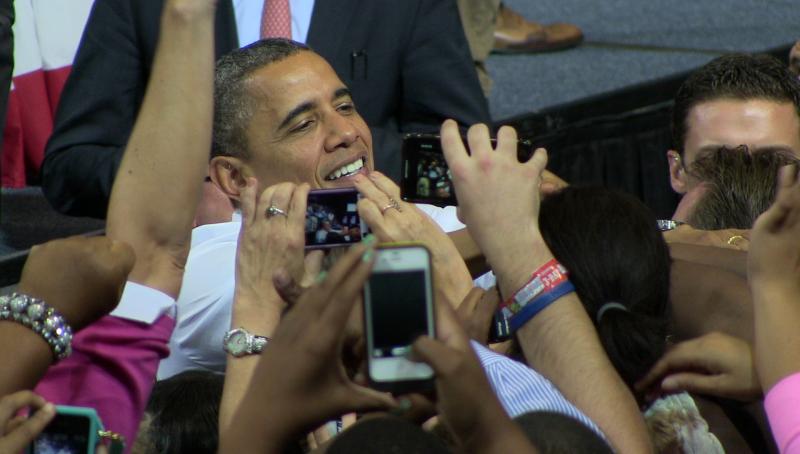 Fixing the economy was his main topic but with this group of youngsters he had to get some business out of the way first.
"Starting on October 2, just 6 days from now, you get to start voting. You get to have your say. And for all the young people who are here, you can register all the way until October 9th, but time's running short if you're not registered."
The president reminded the large number of students in the crowd that he streamlined student loans to keep interest rates down and raised amounts of Pell Grants, but for the most part he drew a distinction between himself and his Republican opponent on taxes and spending.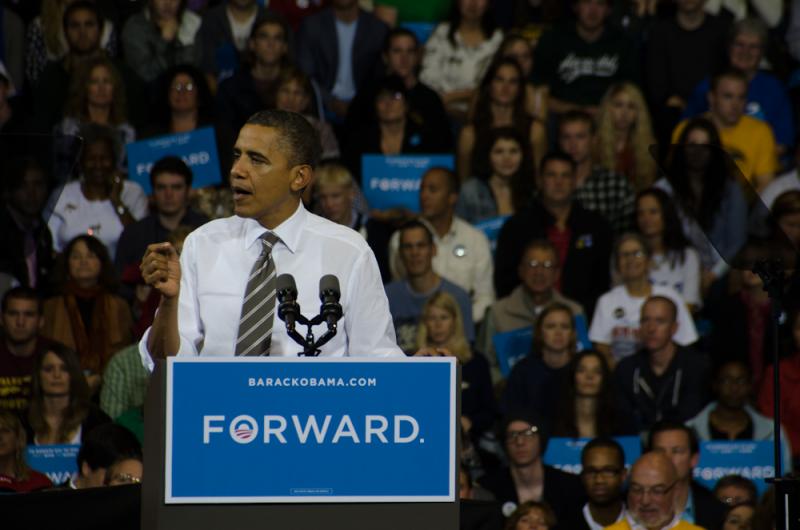 China
"First thing is, I wanna see us export more jobs. Export more products. Excuse me… I was, uh, channeling my opponent there for a second."
In Ohio where manufacturing is a crucial part of the state's economy, Mitt Romney has criticized the president as being soft on China. But Mr. Obama was having none of it..
"And he's been talking tough about China. He says he's gonna take the fight to 'em. He's gonna go after the cheaters, he says. Now, I've gotta admit, that the message he's delivering now is better than the one that he was delivering all those years he was profiting from investing in companies that were shipping jobs to China."
The president said his administration filed more trade actions against China in one term than the previous administration had in two. In fact, he announced the last action 11 days ago while campaigning in Ohio.

Tax breaks for whom?
Taxes are a recurring theme for both parties. While Mr. Romney simply says he wants to lower, Mr. Obama says the rich will have to pay more or the deficit gets worse. He called the Republican plan "a deficit expansion plan."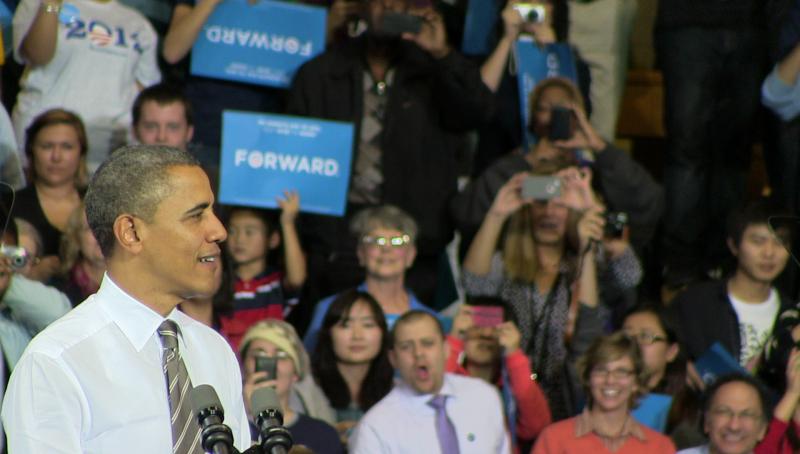 "They're trying to sell the idea that you can somehow lower our deficit by spending trillions of dollars more on tax breaks for the wealthy. And no matter how many times they try to re-boot their campaign, no matter how many times they say they're donna start talking specifics really soon, they don't do it! And the reason is, 'cause the math doesn't work."
The president says a Romney–Ryan administration would protect tax breaks for corporations while eliminating them for the middle class. He questioned a recent Mitt Romney comment about changing Washington from the inside.
"Is he talking about the inside job of having oil companies write our energy policies? Or our insurance companies writing our healthcare plans? Or folks who are outsourcing our jobs writing our tax code? 'Cause if that's what he's talking about, we don't want it. Is he talking about the inside job of having politicians control healthcare choices that women are perfectly capable of making themselves? Cause if it is, we don't want it."
President Obama promised to invest more money into renewable energy but taking note of what state he was in in, he was careful not to overlook coal and what he called "a hundred years of natural gas right beneath our feet."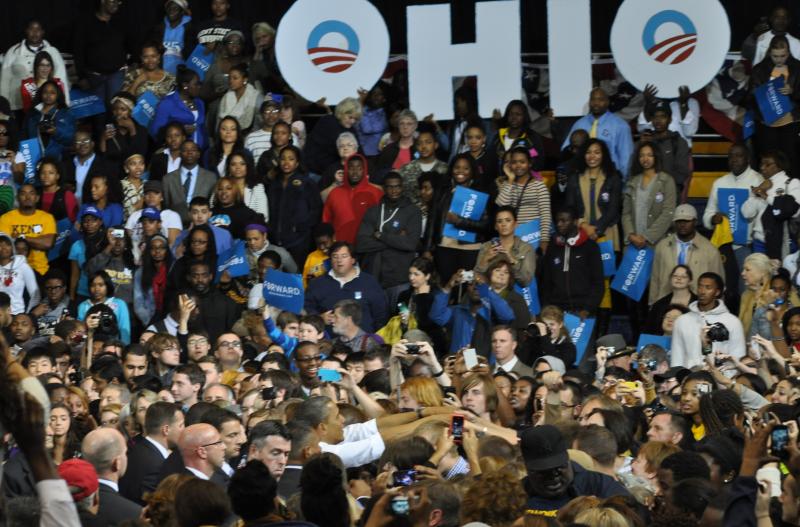 Polls say he's leading in Ohio, especially with young people but he needs them to turn out on Election Day.
After some criticism of the Republican plan, the Kent State crowd would boo. Mr. Obama would immediately stop them and say "Don't boo. Vote."