Loading...


Government and Politics




Wednesday, October 10, 2012




Incumbents Renacci and Sutton meet in the only debate for Ohio's 16th




Redistricting slots two very different incumbents into an Ohio Congressional race


by WKSU's KABIR BHATIA
This story is part of a special series.



Reporter
Kabir Bhatia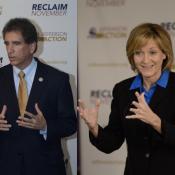 Jim Renacci and Betty Sutton appeared at a forum separately over the weekend and at a City Club debate in Cleveland today.
Courtesy of Robert Sustersic
Download (WKSU Only)
In The Region:
One of the country's most expensive congressional races saw its only debate Wednesday as Democrat Betty Sutton and Republican Jim Renacci faced off at the City Club of Cleveland. WKSU's Kabir Bhatia reports on the meeting of polar-opposite incumbents running for what has been a swing district in northeast Ohio.

Republican Jim Renacci made his name and fortune as the owner of nursing homes, car dealerships and sports teams – and as the mayor of Wadsworth -- before he ran for the 16th Congressional District two years ago. He unseated one-term incumbent and Democrat John Boccieri.

Betty Sutton, a labor lawyer, state lawmaker and Democrat, is seeking a sixth term in a Congress, after GOP lawmakers wiped out her district and merged some of it into Renacci's. Theirs is one of only two congressional races in the country pitting incumbents of opposite parties. And that's translated into big money and lots of attention, including that of the 300 people packed into the City Club of Cleveland debate.

Like a microcosm of the presidential race, Sutton voiced support for the Affordable Care Act and for raising taxes on wealthy people. Renacci says higher taxes would strangle small business owners, while Obamacare creates too much uncertainty for all businesses.

"Now there were some good things in the bill. Pre-existing conditions; I agree with some of those things. But we could have done that in four or five pages. We don't have to throw a 2,400-page bill on the table and say 'We need to pass it to know what's in it.'"

But Sutton supports the health-care act and says Renacci, and GOP presidential candidate Mitt Romney, have talked of replacing it but won't say how or with what.

On economic development, Sutton repeatedly touted her anti-corrosion initiative to develop the $400 billion rust-prevention industry in Northeast Ohio.

"Making sure that when we build that infrastructure, we can use American iron, steel and manufactured goods to get those ripple effects and those good jobs for our folks. We can also close those loopholes that my opponent has consistently voted for, that encourage outsourcing of our jobs. We could also rein in Chinese currency manipulation, something that I would ask my opponent to join me in calling on Speaker Boehner to put on the House floor, because that could mean a million jobs."

That drew a pointed a response from Renacci, who has supported eliminating taxes on profits American companies make overseas if they re-invest that money in the U.S.

"Congresswoman Sutton talked about loopholes. I'm a CPA. To send jobs overseas, I'd love for her to tell me one of those loopholes she's talking about. I don't know what those deductions are to send jobs overseas. I'd love to hear them someday. I believe that we need certainty and predictability for those job creators. She talked about what she believes. I believe the job creators are the ones we should be listening to."

The candidates also diverge sharply on what should be done about the $1.2 trillion in cuts in defense and domestic spending that is coming Jan. 1. Congress agreed on the cuts in August 2011 to resolve an impasse over the national debt.

"I voted against the sequestration in the first instance because I knew it would get us into this place."

Renacci voted for the cuts, but then supported an alternative this summer that would lessen the cuts to defense.

Most talk about debt and deficits in the races this year for president, Senate and Congress includes an argument over whether Bush-era tax cuts for the the wealthiest Americans should expire.

This debate was no different.

Renacci says no, contending many of those who would be affected are small-business owners, whom he calls job-creators.

Sutton says the cuts should expire for income above $250,000.
The entire debate can be heard below:


Other options:

MP3 Download
(54:28)
---
---
---