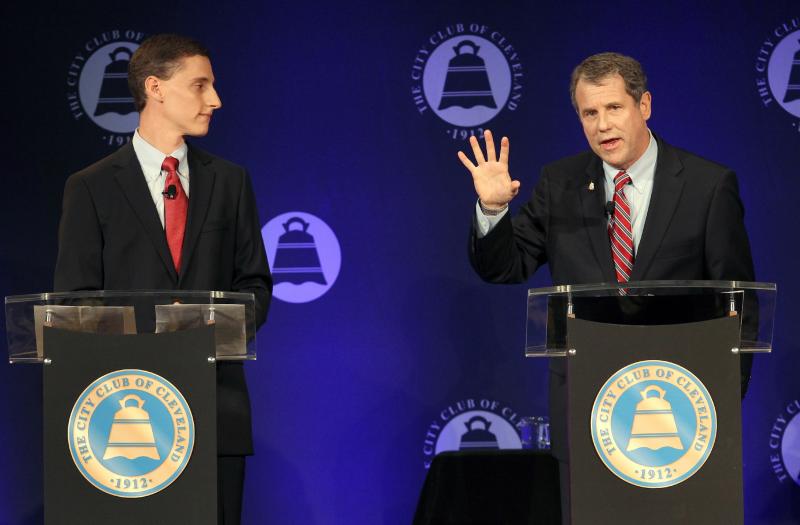 The tenor of the Senate race's negative campaign ads spilled over into the debate before 1,300 Brown and Mandel supporters in Renaissance Hotel ballroom. The spirited event was moderated by Ohio Public Radio's Karen Kasler and aired live on C-Span. Senator Brown touted his support of the middle class, veterans and auto workers, and he called Josh Mandel a dishonest politician.
http://www.cleveland.com/open/index.ssf/2012/10/sherrod_brown_and_josh_mandel_2.html
"I'm proud to be endorsed by many newspapers around the state that didn't endorse me in 2006. There papers don't trust josh Mandel because he hired cronies to try to do his state treasurers job. They don't trust him because he believes in the same trickle-down economics that got us into mess in the beginning. I believe you grow the economy by focusing on trade rule enforcement, one the auto rescue issues. This isn't a game about personal gain, it's about real people."
Mandel: "You're just heard why congress has a 10 percent approval rating, the lowest in the nation's history. It's because Brown and other Washington politicians like to blame the problems one everyone but themselves. Brown says one thing in Ohio then a different thing in Washington. Six years ago he attacked his opponent for high unemployment rates, but today unemployment is higher. That year he attacked his opponent for hyper-partisanship, but he's voted with President Obama 95 percent of the time."
Auto industry bailout big topic in debate, campaign
Brown says the auto industry rescue wasn't perfect, but was necessary to save thousands of auto industry jobs in Ohio and across the country. Mandel maintains the bailout raised the national debt, and he would not have supported it because it cost some autoworkers their pensions. Mandel blames the auto industry's problems on Washington politicians like Brown.
"Bad energy, tax and regulatory policies, and then they try to take creadit for solving the problem. I would not have voted for that, I couldn't have because it striped pensions from Delphi autoworkers and it cost mechanics and car salesmen in Ohio their jobs. I'll do everything I can in Washington to grow the economy with strong manufacturing policy. But I'm not a bailout Senator, he's the bailout Senator."
Brown: "Josh, do you know about the Chevy Cruze and Eco? The steel is made in Cleveland, the transmission comes from Toledo and they build the engines in Defiance. These are real jobs and real people, a big part of the reason the unemployment rate was over 10 percent and is now under seven. It's not good enough, too many people are still out of work, but we're going in the right direction. You would be so out of step with Voinovich and LaTourette who voted for the auto rescue."
Supporters of each candidates see the debate results differently
The candidates also sparred over familiar topics such as health care, foreign trade and debt tied to China. After the debate, Brown supporter Neil Ginley of North Olmsted gave his candidate the win.
"Mandel seemed to be voicing the same answer to a lot of questions and avoiding answers to difficult questions, where Sherrod tried to attack the point being asked. Based on that I don't see how anyone could not vote for Brown, he has endorsements across the isle, and seemed to have a better grip on what's going on."
On Mandel's side, supporter Al Bota of Brecksville saw the debate differently.
"I thought he really got the point across that Brown, with his time in Washington, being responsible for part of the $5 trillion deficit. And we still don't know what we got for that spending. Unemployment is still a problem, though it's gone down in Ohio, but that's partly because of the switch to Republican Governor Kasich's policies."
Race still close despite big spending
Polls show Brown leading Mandel by a few point, despite $20-million in super PAC money being spent in Ohio on ads attacking Brown. Mandel and Brown will debate again this Thursday in Columbus, and on October 25th in Cincinnati.