Loading...






Tuesday, October 16, 2012




UPDATED: U.S. Supreme Court opens weekend voting for Ohio voters




Ohio's secretary of state sets new hours for weekend voting after he loses U.S. Supreme Court appeal S


by WKSU's M.L. SCHULTZE
This story is part of a special series.



Web Editor
M.L. Schultze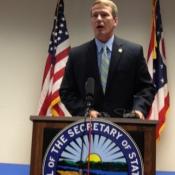 Secretary of State Jon Husted lost his appeal today to the U.S. Supreme Court to enforce a state law banning most voting on the weekend before the Nov. 7 election.
Download (WKSU Only)
In The Region:
UPDATE: HERE ARE THE HOURS OHIO SECRETARY OF STATE JON HUSTED JUST SET FOR VOTING THE WEEKEND BEFORE THE NOV. 7 ELECTION:
Saturday, November 3, 2012 – 8:00 a.m. to 2:00 p.m. Sunday, November 4, 2012 – 1:00 p.m. to 5:00 p.m. Monday, November 5, 2012 – 8:00 a.m. to 2:00 p.m.

The U.S. Supreme Court has turned down Ohio's attempt to curtail early voting the weekend before election day. Ohio Secretary of State Jon Husted and Attorney General Mike Dewine, both Republicans, had asked the high court to overturn district and appeals court rulings.
The lower courts had ruled a state law that would bar most people from voting in person on the Saturday, Sunday and Monday before election day was unconstitutional because it values some voters rights over others.

The Obama campaign had challenged the law. In a statement after the Supreme Court ruling today, the campaign said, "This action from the highest court in the land marks the end of the road in our fight to ensure open voting this year for all Ohioans, including military, veterans, and overseas voters. We now turn our full attention to educating Ohio voters on when and how they can vote." The states 88 county boards of elections must now figure out what hours to establish for early voting. In 2008, and estimated 93,000 votes were cast that final weekend. Most of them were in Democratic areas.
---
---
---