Loading...


Government and Politics




Wednesday, October 17, 2012




Coal, cars and China in presidential debate




Jobs, trade and energy were key during the town hall at Hofstra University


by WKSU's KABIR BHATIA
This story is part of a special series.



Reporter
Kabir Bhatia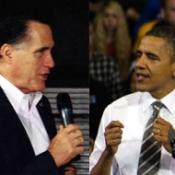 Romney and Obama sparred on several issues key to Ohio voters: coal, the auto bailout and trade with Chinese
Courtesy of WKSU
Download (WKSU Only)
In The Region:
Several big issues for Ohio voters got their due during the second presidential debate. WKSU's Kabir Bhatia spoke with David Cohen of the University of Akron's Bliss Institute of Applied Politics about the swing state's status in the town hall meeting last night.
Ohio's strong ties to the auto industry got attention right at the top of the debate, as former Massachusetts Gov. Mitt Romney criticized the President's handling of the 2009 bailout of GM and Chrysler.

Auto suppliers in Ohio have been hard hit by Chinese competitors as well, and Romney told the crowd that Obama has been weak on trade violations. But the president said the Yuan has actually gone up 11 percent during his term.

Political Scientist Dave Cohen of the University of Akron's Bliss Institute says the impact of those arguments may be negligible.

Connecting with working folks has taken an interesting turn in southeast Ohio, even though it's the least populated quadrant of the state.

"They've spent a lot of time [and] resources trying to convince the folks that there's a war on coal and that President Obama is seeking to close all the coal mines down. I think President Obama was on record tonight as saying there is no war on coal, and coal is part of his all-of-the-above energy strategy. I believe he did point out that the number of coal jobs has actually increased in the last few years, and not in fact decreased."

Although the second presidential debate featured a town hall setting, the third and final presidential debate will mirror the first as the two candidates discuss foreign policy next Monday night in Florida.
---
---
---