Loading...


Ohio




Thursday, October 18, 2012




Nearly 4,000 rally in Parma for Springsteen, Clinton and Obama




Ohio remains the center of visits for presidential candidates and their surrogates


by WKSU's KEVIN NIEDERMIER
This story is part of a special series.



Reporter
Kevin Niedermier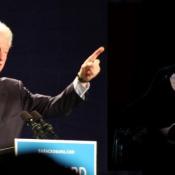 President Clinton and Bruce Sprinsteen say Mr. Obama gets it when it comes to the poor and middle class.
Courtesy of BRIAN BULL, Ideastream
Download (WKSU Only)
In The Region:
Former President Bill Clinton and Hall of Fame rocker Bruce Springsteen drew a big crowd to Northeast Ohio today to a campaign rally for President Obama. An estimated 3,700 people came to Cuyahoga Community College in Parma for the event. During a half-hour address, Clinton said the economy is not where it should be yet, but is improving under Mr. Obama. And Clinton said all Gov. Romney wants to do is repeat the past.
Following Clinton, Bruce Springsteen told the crowd that President Obama represents compassion for poor and middle-class people, the subjects of most of Springsteen's songs. He then performed six songs, including standards such as "Thunder Road," "The Promised Land" and "No Surrender."
---
---
---