"This is a concert you're going to want to tell your grandkids about.."
That's the actor Jack Black trying to entice students at Kent State University to join him and his bandmate Kyle Gass as they take a bus to the Portage County Board of Elections. Known together as Tenacious D, they played a "rock the vote" concert Thursday night at the House of Blues in Cleveland. Black said he wasn't going to tell the students how to vote but he was wearing an Ohio for Obama button. He also said the President saved the country from an economic disaster and then spelled out issues he thought would be important to the young people.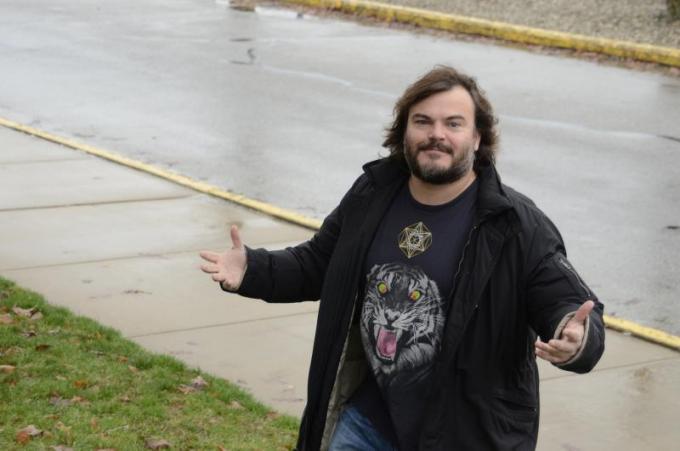 "This election is incredibly important because of women's rights. And If you think gays and lesbians should have the same rights at all other living human beings then it's an important vote. If you don't want the neo-cons taking over the military and dropping bombs all over the globe then this is an important vote. If you want to continue on the path to rescuing our economy this is an important vote."

Kyle Gass told the students voting is their responsibility.
"Let's not squander it, the future depends on us. Right now the future depends on getting on this bus with us and voting."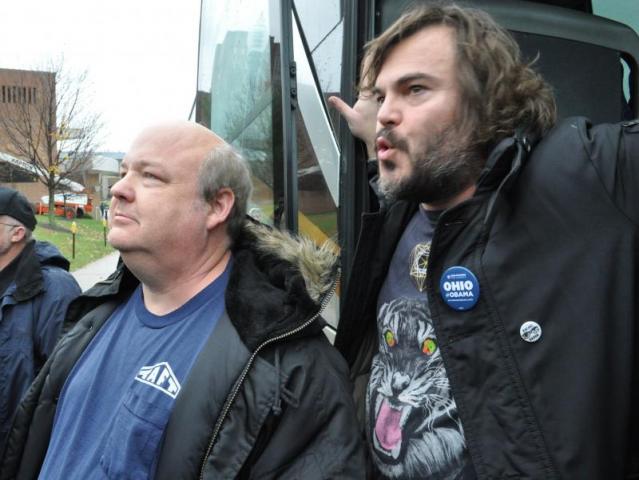 About 150 students stood in the rain and those who fit on the first bus trip to the polls heard a free concert on the ride.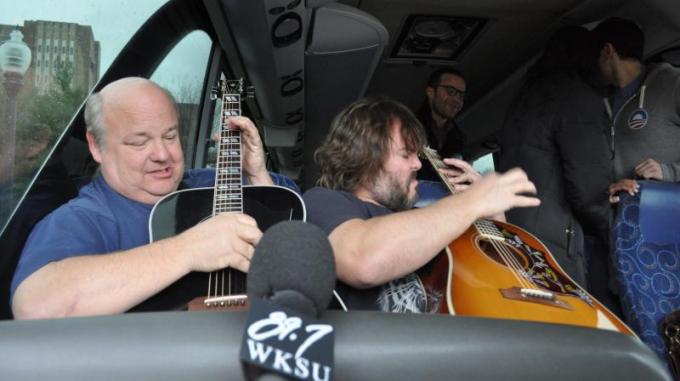 A line of at least 50 people already stretched down the hall at the elections board when the students started showing up – some in their own cars. Gass and Black stood outside posing for photos with every single one of them, sometimes singing into their phones as the kids called friends and parents.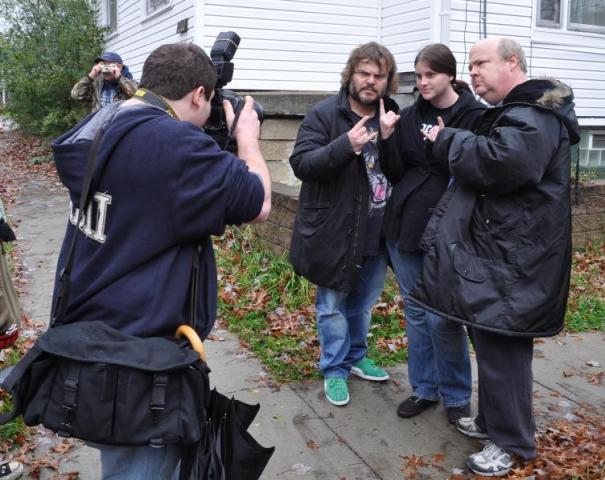 Some of the celebrities that appear with Mitt Romney or President Obama at least get face-time with the candidates. But Tenacious D is on its own, standing out in a cold rain in Ravenna. Kyle Gass says this is not a side trip from a regular music tour. The pair traveled from California just to get people to vote.
"We're on a mission until Tuesday. We have to do all we can just so we can feel good at night. "
It seems like a lot of work to get 40 or 50 people at a time to vote but Black said "It's kind of a Johnny Appleseed effect. You spread the passion and they'll tell two friends and they'll tell two friends and so on and so on. "
Black said they decided to come to Ohio because "as Ohio goes so goes the nation and we wanted to give it one last push." This is the last get-out-the-vote stop for Tenacious D. They and many other bands have been treating Ohio like Cinderella at the ball. Midnight strikes Tuesday.