Loading...



From WKYC.COM / TV 3
Get the latest school closings and delays


Funding for WKSU is made possible in part through support from the following businesses and organizations.
---
For more information on how your company or organization can support WKSU, download the WKSU Media Kit.

(WKSU Media Kit


)
---

Government and Politics




Friday, November 2, 2012




Presidential hopefuls campaign in Ohio




Minor party presidential candidates discuss their stance on taxes and government spending.




by WKSU's STATEHOUSE CORRESPONDENT BILL COHEN


This story is part of a special series.



Reporter
Bill Cohen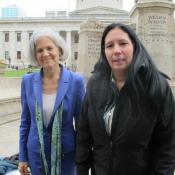 Presidential and vice-presidential candidates of the Green Party --- Jill Stein (left) with her is her running mate, Cheri Honkala (right).
Courtesy of Bill Cohen
Download (WKSU Only)
In The Region:
Two minor party presidential candidates campaigned in Ohio today. In Columbus, Green Party hopeful Dr. Jill Stein called for higher taxes on the rich to pay for expanded government programs. Libertarian Party hopeful Gary Johnson campaigned in Beavercreek, Bowling Green, and Streetsboro with his call to slash taxes on everyone and drastically cut government spending. Ohio Public Radio's Bill Cohen reports on their platforms and on a long-shot scenario where one of them helps elect one of the major party candidates they don't like.
---
---
---