Four years ago, some county boards of elections offered weekend voting for as many as four weeks before election day. But a change in state law, a federal court case and a Secretary of State's directive limited that to just the weekend before election day, and cut the number of hours.
Which may account for a line at the Stark County Board of Elections in downtown Canton that at times stretched up two flights of stairs, and down another flight before snaking out the door and down half a block.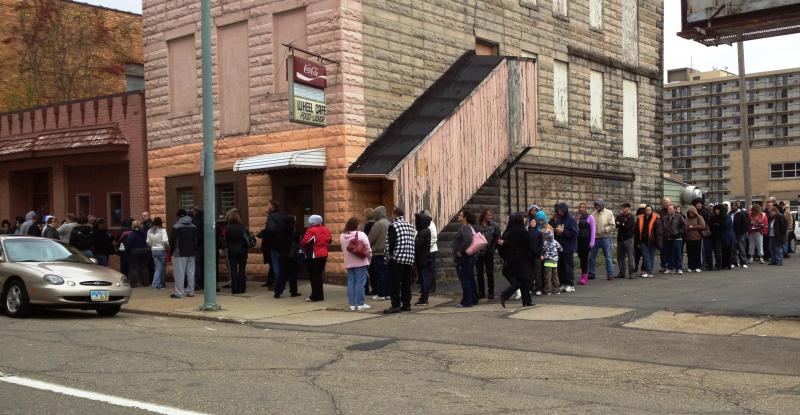 For some, this was a first for early, in person, voting, and even the lines had an up side.
Tony and Martha DiMauro welcomed it.
"I really related to everybody in line today. It was fun. And it restored confidence to see that there were so many people just different types of people who decided to take the time to do it and to make sure that it got done."
Other demands come Tuesday
Knowing his work schedule would be a problem, Brad Yoder voted last Tuesday.
"I think the experience was very good, very easy, user friendly. I actually enjoy the experience of the voting day but just in this particular time, I'm not going to be available."
Still, he was outside the Board of Election Saturday with their toddler son while his wife voted, and kept him up to speed on her progress through line with a text.
Taking control
Some of those voting early in person, like Donalyn Sterner, are mail-in ballot converts, who just felt they needed to take a bit more control of their votes this year.
"I wanted to make sure I got it done and there were no screw-ups. Last year, I mailed it in, and there's just more of a sense of actually voting when you do it in person and I just wanted to make certain I got it doen"
And Dawn Johnson and Theresa Cutler said they were simply being proactive
"It's going to be very chaotic on Tuesday, it's a work schedule. I don't want to put off what I can do today. I don't want to wait for the last minute.
"Absolutely. Why wait until tomorrow? … do it for today."
Neil Hess tried to do that when he drove to the Summit County Board of Elections to vote.
"It was a madhouse. Police were directing traffic into the facility; there was no parking. People were parking as much as a block away and walking in. I just drove through, saw how far away people were parking and decided I better just try my luck Tuesday morning."
Early in-person voting ends at 2 this afternoon. And mail-in ballots must be postmarked by today. The regular polls open up at 6:30 tomorrow morning, and close at 7:30 tomorrow night.