Loading...


Government and Politics




Sunday, November 4, 2012




President Obama says it's now up to the voters in Ohio and elsewhere




The president underscores familiar themes for the middle class in his speech in Mentor


by WKSU's KABIR BHATIA
This story is part of a special series.



Reporter
Kabir Bhatia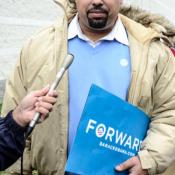 Mike McDougal of Mentor lost power after superstorm Sandy, and he can appreciate President Obama's bipartisan relief efforts on the harder-hit east coast
Courtesy of Robert Sustersic
Download (WKSU Only)
In The Region:
President Obama was in Mentor over the weekend, his first visit to swing Lake County. WKSU's Kabir Bhatia reports one the campaign's dash throught the Buckeye State on the only weekend of early voting
After shout-outs to the school's athletic programs, the president got down to making his case for four more years in front of nearly 4,000 people at Mentor High School.

"We know this country can't thrive – can't succeed – without a thriving middle class. Our fight goes on because America's always at its best when everybody gets a fair shot, and everybody's doing their fair share, and everybody's playing by the same rules."

Mentor got to hear Obama's Greatest Hits: attacking Romney's stance against the auto bailout, touting more manufacturing in Ohio, expanding healthcare, and even dusting off the 2008 mantra of "Change." Within all that, veteran Jerry Campbell picked up on a single phrase that sealed his vote for a second term.

"When he called himself 'Commander-In-Chief,' I have 21 years of service, I appreciate that he will help the veterans and soldiers when they come back from war. That was -- it hit me in the heart. A bunch of us feel this way. But if that president can do what he can, and will... well I want my country back."

Another recurring theme this campaign has been college financial aid. That was enough for Mentor High senior Tiaja Wynn, who hopes to become an anesthesiologist.

"When he said we don't have to ask our parents for it – the money – if we need it for college. Well I don't want to have to ask my Dad for any more money."

Her enthusiasm was matched by Mike McDougall from Mentor. He lost power during superstorm Sandy. So he appreciates the president's remarks on the bi-partisan relief efforts in New York and New Jersey.

"It wasn't motivated by politics or anything. I think it was genuine what he did, and that's a true sign of what a great guy he is and that's why I voted for him and support him."

The president's stop in Lake County, one of the state's dozen key swing counties, was mirrored a few hours later when House Speaker John Boehner stopped by Republican headquarters in Painesville.
---
---
---