Nearly 10-thousand people showed up at Cleveland's I-X (International Exposition) Center to hear Mitt Romney speak – and they showed up the same hour the Cleveland Browns were playing a home game.
The 65 year old told them "I'll tell ya, Cleveland really does rock."
Last week, Mitt Romney had been widely ridiculed for his claim Chrysler was moving Ohio Jeep jobs to China, and then New York's mayor endorsed President Obama. But Sunday, Romney's wife, Anne, noted the enthusiastic welcome they got.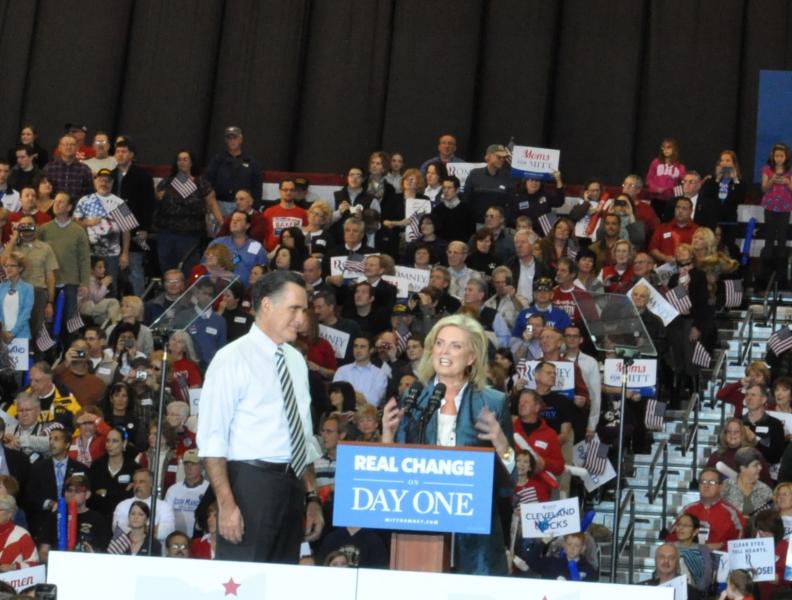 "But it's happening everywhere not just here in Ohio."
Most of Romney's speech was an attack on President Obama. The Republican claimed almost every initiative by the president ended up hurting the economy.
"Did Obamacare create new jobs? Did his war on coal and oil and gas create new jobs? Did his Dodd-Frank regulations make it easier for banks to make more loans? Does raising taxes put people to work?
To each question the crowd roared "no!."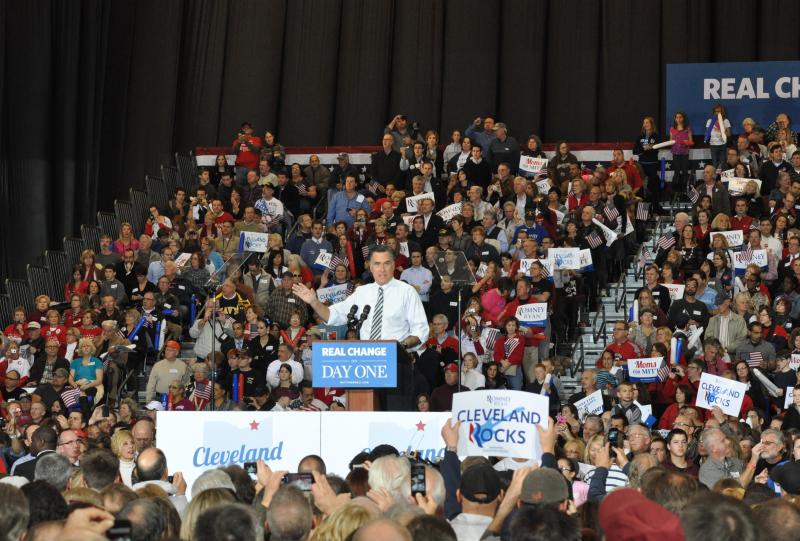 Energy
Ohio has an emerging gas and oil industry, and earlier this year, the GOP identified energy as a winning issue for the GOP in the Buckeye State.
Gov.Romney touched on the issue several times. And though gas prices have dropped to as low as $3.07 in the Cleveland area, Romney talked about the high prices, saying he will change course on energy.
"Take full advantage of our energy resources: coal, oil, gas nuclear, renewables. On day one I'll act to increase the number of leases and permits to drill on federal lands and I'll also speed the approval of the Keystone pipeline from Canada."
Romney repeatedly said regulations are hurting businesses and promised when he's in office every business owner will know the president likes them.
In contrast, Romney said another four years of President Obama will mean a return to recession and depressed home values.

School Choice
On education, the former Massachusetts Governor said Mr Obama will just do whatever the public sector unions tell him to do.
"When I'm elected president I'll be the voice of the parents and their children because they have no union. I'll make sure the parents get the information they need to know, whether their school is succeeding or failing and they get the choice they need to pick the school where their child can succeed."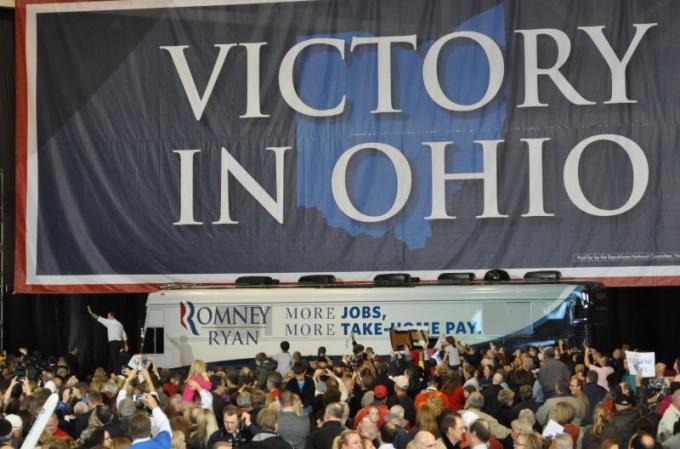 Wrapping up a relatively long speech for him, Governor Romney took an optimistic note, even adopting the same rhythm and cadence as Ronald Reagan used to use. He told the crowd that America will come roaring back…
"We're Americans; we can do anything."
Mitt Romney makes an airport stop in Columbus Monday evening and Paul Ryan visits the Youngstown airport Monday night.