Loading...



From WKYC.COM / TV 3
Get the latest school closings and delays


Funding for WKSU is made possible in part through support from the following businesses and organizations.
---
For more information on how your company or organization can support WKSU, download the WKSU Media Kit.

(WKSU Media Kit


)
---

Government and Politics




Wednesday, November 7, 2012




Surprise! No Ohio suprises



by WKSU's M.L. SCHULTZE
This story is part of a special series.



Web Editor
M.L. Schultze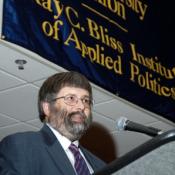 University of Akron Bliss Institute's John Green says Ohio filled its expected role
Download (WKSU Only)
In The Region:
Perhaps the biggest surprise on Tuesday night was that there were no big surprises… no weeks of waiting while Ohio counted provisional ballots and voting-rights suits played out in the courts. WKSU's M.L. Schultze spoke with political scientist John Green about what Ohio voters were feeling -- and how that once again reflected the nation.
---
---
---