Loading...


Government and Politics




Wednesday, November 7, 2012




Jim Renacci wins 16th District




Hard-fought race sees three-term Congresswoman Betty Sutton lose 52 percent to 48


by WKSU's KABIR BHATIA
This story is part of a special series.



Reporter
Kabir Bhatia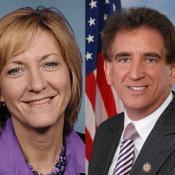 The race for Ohio's 16th Congressional District was one of two in the country pitting incumbents of opposite parties against eachother
Courtesy of WKSU
Download (WKSU Only)
In The Region:
One of the most expensive and bitter Congressional campaigns in the country has careened to its conclusion, and incumbent Republican Jim Renacci triumphed over incumbent Democrat Betty Sutton. WKSU's Kabir Bhatia reports.
Congressional re-districting swallowed up the Northeast Ohio district Betty Sutton had served since 2007. So the former labor lawyer found herself fighting for name recognition in the new 16th, which was drawn to favor a Republican.

That Republican, Jim Renacci, won by about 4 percentage points.

Renacci in Wadsworth: 2 more years
At the Galaxy Restaurant in Wadsworth where he celebrated his first election two years ago, Renacci set out his goals for the next two years.

"We really gotta look at our country, and the spending, and the debt, and all the things that are occurring. And I plan on getting back there and really working hard to make sure the future for our children and grandchildren is different and better. Because that's really the key here. We have to be able to make sure that our country changes direction. We cannot continue to spend the dollars we are spending."

Renacci – the 11th wealthiest man in the House of Representatives – made millions in businesses ranging from nursing homes to car dealerships. When GM closed his Chevy dealer as part of the auto bailout – something Sutton is particularly proud of supporting – Renacci got mad, whipped up Tea Party support and beat one-term incumbent John Boccieri back in 2010. He beat Sutton by a much narrower margin.

Sutton in Parma: Thank you
Sutton conceded the race from her watch party at Parma Steelworkers' Local 33, thanking her staff for their work on the campaign, and during her years in office.

"You've helped veterans get through the red tape and get the benefits they deserve. You've helped our senior citizens. You've helped constituents across Northeast Ohio. And that is realty, really important."

Name recognition
Many voters in the 16th District did not know either candidate. And – given the meandering shape of the district from western Cuyahoga to Portage to Wayne counties – a good number, like Carl Dominico, didn't even know what district they lived in.

"Because of the amount of signs around my area. I mean they just divided it all but there's a lot of signs all around my house for all of the candidates. So that's how I knew where I was."

The race that pitted Renacci and Sutton was one of only two in the country between incumbents of opposite parties. It also was one of the most expensive in the country, with more than $9 million spent on ads.
---
---
---