Loading...


Government and Politics




Monday, June 20, 2011




Exploradio - Cleveland's role in America's innovation initiative




Head of NorTech will advise Congress and President on ways to boost competitiveness


by WKSU's JEFF ST. CLAIR
This story is part of a special series.



Reporter / Host
Jeff St. Clair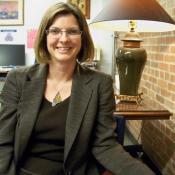 NorTech CEO Rebecca Bagley is part of a 15 member Innovation Advisory Board with the U.S. Dept. of Commerce. Their first meeting was this month, they will present their findings to Congress in January.
Courtesy of Jeff St.Clair, WKSU
Download (WKSU Only)
Innovation is a term that's often thrown around by policy makers, but figuring out what it is, and how it works is Rebecca Bagley's job. She's head of Nortech, a Cleveland-based innovation think-tank. Bagley is also a member of the federal Innovation Advisory Board which is reviewing national policies that effect American competitiveness. The group presents its findings to congress early next year. Bagley says innovation basically comes down to staying ahead of the competition –
---
---
---
---
---
Stories with Recent Comments