School kids scamper through the main hall of the Cleveland Museum of Natural History, excited to have a field trip AND to see the bones of real-life dinosaurs. Michael Ryan is our guide. He's head of vertebrate paleontology at the museum and a real-life dinosaur hunter.
It's the off-season for Ryan, who spends summers out looking for dinosaurs, and the winter months writing about them.
"I've just named two new dinosaurs. The paper has been accepted for publication, and it is difficult to come up with those names."
Ryan opted for a mythic monster for one recent find.
"Medusaceratops means Medusa-faced dinosaur, and if you look at the horns sticking off of this, they don't stick out straight. They kind of flop over and meander around a bit. So the first thing I thought was it looks like the snakes on the head of Medusa."

From rock to fossil
Eighty or so million years ago, western North America was home to dozens of closely related horned dinosaurs like Medusaceratops -- relatives of the famous triceratops. Today, those Western Badlands are a gold-mine for fossil prospectors like Ryan.
"We're now in the laboratory of the vertebrate paleontology department of the CMNH."
Ryan's workshop is packed with fossil fish, softball-sized dinosaur eggs, and plaster-jacketed lumps of bone.
"In front of us here, we're looking at a duck-billed dinosaur from the late Creataceous."
Ryan fires up a needle-pointed air hammer that he uses to chip away pieces of gray rock from the rust-colored fossil.
"You can imagine after eight hours of that your ears are going to be ringing."
The ears aren't the only parts of a paleontologist that get a workout. Ryan says there's no easy way to find dinosaurs in the Canadian wilderness.
"We put our boots on, we put our hats on, we fill up our canteens and we go walking. And we walk and we walk and we walk. And what we're looking for are little bits of bone exposed out of the rock."

The cradle of dinosaur diversity
The stretch of Alberta just north of the Montana border is desolate. And, Ryan says, worth the effort to reach it. The area once teamed with dinosaurs.
"They're relatively unexplored Badlands, and every time we find a complete new skull or skeleton, it's almost always something new."
But more than anything else, Ryan says a movie led to today's revolution in dinosaur discoveries - Jurasic Park.
"So in the last 5 – 6 years you're looking at all the 7 & 8 year-olds who watched that movie and their eyes bugged out and their jaws dropped and they said I want to be a dinosaur paleontologist. They're now graduating with their PhD's and working with their mentors for the last number of years."
Sixty-five million years ago, the western U.S. was the cradle of dinosaur diversity. But in the age of the fishes -- some 360 million years ago – Cleveland's Devonian seas were the breeding ground of a fearsome predator.

Cleveland's Devonian monster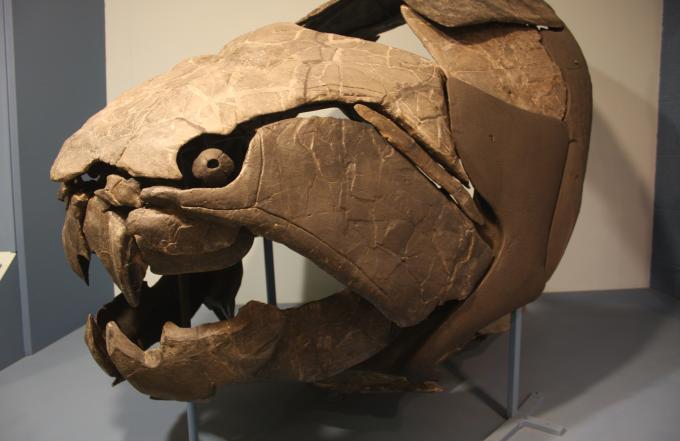 Dunkleosteus was named after David Dunkle, one of Ryan's predecessors as curator of the Cleveland Museum of Natural History. Its bones are found in the shale deposits of the Rocky River, and the basement of the museum is full of them.
"What you're looking at is torpedo shaped head with two bullet eyes, and an upper and lower jaw that look something like hatchets."
Cleveland is known by museum-goers worldwide as home to this massive armored fish.
"We suspect that there's an area in the greater Cleveland, Ohio, area where these things may have come and done their mating, kind of like salmon coming to reproduce. And then they would have distributed themselves around the world."
Back on the main floor of the museum, a full-size Dunkleosteus hovers menacingly over the dinosaur displays. It's home for Michael Ryan, at least during the winter months, before the long summer days call him back to Alberta's dinosaur fields. It's a passion that's possessed him since he first heard the word paleontologist.
"I've got friends I grew up with who are retiring and they still don't know what to do with their lives. I've known what I want to do every day of mine."
Ryan's latest description of a new horned dinosaur, Xenoceratops was published in the November issue of the Canadian Journal of Earth Sciences.