Loading...


Science and Technology




Monday, June 11, 2012




Exploradio - NASA powers Cleveland's clean bus




Hydrogen can send a space shuttle into orbit, and power a bus around Cleveland in a new partnership between RTA and NASA Glenn.


by WKSU's JEFF ST. CLAIR
This story is part of a special series.



Reporter / Host
Jeff St. Clair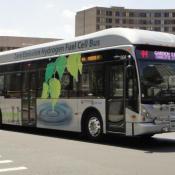 Cleveland RTA riders may soon be riding on a hydrogen fuel cell powered bus. The only exhaust is water. NASA Glenn is partnering with RTA to build a hydrogen fueling station in their East Cleveland garage.
Courtesy of UTC
Download (WKSU Only)
Hydrogen is the fuel NASA used to put people in space aboard the shuttle. Now NASA Glenn plans to use it to move people around on the ground in Cleveland. The plan is to install a hydrogen fueling station at the RTA garage in East Cleveland that will power a fuel cell bus. Some people are worried about the safety of storing hydrogen at the facility. In this week's Exploradio - We discuss hydrogen fuel cells with Valerie Lyons, head of the in-space propulsion unit at NASA Glenn.
The hydrogen gas will be generated on-site at the RTA bus garage using an electrolyzer that produces enough gas each day to power the bus 80 - 100 miles. Hydrogen is produced by splitting water into hydrogen and oxygen using the process of electrolysis. Hydrogen is a very powerful fuel, NASA developed used it to send the space shuttle into orbit. The only exhaust from a hydrogen fuel cell motor is water.

The purpose of the project is to demonstrate alternative energy technologies and build awareness for hydrogen fuel cells. Northeast Ohio is a center for fuel cell research. The state's Third Frontier Fuel Cell program, from 2003 - 2011, pumped $90 million into fuel cell research and manufacturing in Ohio.

The Cleveland RTA voted in May to approve up to $50,000 to cover the costs of installing a hydrogen fueling station at their East Cleveland garage. Connecticutt-based United Technologies Company, or UTC, will provide a zero-cost, one-year lease for the bus, which has price tag of over $2 million. East Cleveland officials still must approve the plans. The Plain Dealer reports that East Cleveland safety officials are reviewing the fueling-station plans. NASA's Valerie Lyons says the hydrogen is safer than liquid fuels because it is spill-proof.



---
---
---
---
---
Stories with Recent Comments