The Center for Layered Polymeric Systems
Eric Baer is old school. That's why, when words fail in explaining his research, he reaches for a piece of chalk. He draws a shape on the board, "Here's a shape…" and goes on to explain how lenses work by bending light based on the shape of the lens. The new lenses he's developing work differently, rather than the shape causing a single sharp bend, his lenses bend light in a smooth curve due to the structure within the lens.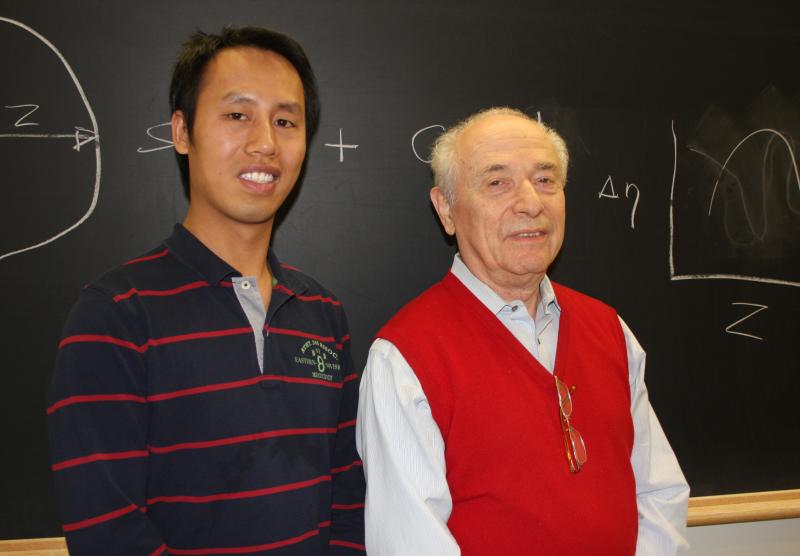 Baer has been at Case Western Reserve University for 51 years, during which time he founded the school's polymer science department and, more recently, the division known as CLIPS, the Center for Layered Polymeric Systems.
The CLIPS center grew out of Baer's stab at a challenge issued a decade ago by the Department of Defense to build a better lens system for things like spy satellites or infrared goggles. The goal of the military's Bio Optic Synthetic Systems, or BOSS program, was to design a light-weight and versatile synthetic lens that can do everything a human lens can do, only better. Baer believes his team's solution to the challenge is nothing short of ground-breaking. He says the technology is,"game changing."

From BOSS to GRIN
I'll give you one more acronym, Baer's design is called GRIN lens, or a Gradient Refractive Index lens, which is akin to how the lenses in our eyes work. Baer explains that a camera, for example, needs a series of lenses to focus light, but animals like us can focus up close and far away, and see clearly at the edges of vision with just one tiny lens embedded in our eye, thanks to GRIN .
GRIN, he says, is essentially a lens within a lens.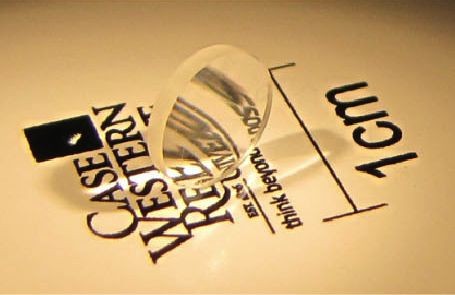 And while our eye uses microscopic layers of Crystallin proteins to make a GRIN lens, Baer's synthetic lens is made of thousands of layers of different types of polymers. Baer says, "We've copied the design of nature but we have different materials than nature uses."

PolymerPlus and GRIN
And now Baer's GRIN lenses are going into mass production just a few miles south of Case at a new company called PolymerPlus, founded two years ago in Valley View by his former student Michael Ponting. Ponting's company licensed the GRIN lens technology from Case, and using manufacturing techniques developed by his former professor is now making GRIN lenses for military 'applications', which is about as specific as he can get. He holds up a three inch wide, dome shaped clear plastic lens - "In this GRIN lens there's almost a million nanolayers, you're at 950,000 nanolayers that make up this optic, and this is another optic we're making for a government program to try and go into the eye piece of a surveillance entity."
Ponting points to my glasses as an example of how current optics work, and why the military is so interested in improving the centuries-old understanding of lenses. He notes that if you look through the center and you look through the edge you kinda notice it gets blurry,"that's because all conventional optics that are a single refractive index work on bending light based on the geometry or the shape."
The new design changes all that. Ponting says with the GRIN optics you can remove that blur and have all of the points focusing on a single tight spot which will give you a higher resolution, just like the human eye.

The future of seeing is GRIN
Back at Case, Eric Baer draws on his half-century of polymer science research to peer into the future, and he foresees a revolution in optics. He speculates that every lens that's ever been made will eventually be replaced by some form of GRIN optics in there, it's only a question of how long. Baer says it could take up to 30 – 50 years for the complete transition to GRIN optics as the standard, but, "this is the breakthrough technology."
While Case-Western's spin-off company Polymer Plus is cranking out hard lenses for the military, Baer is working in his lab on the next generation of soft GRIN lenses that may someday be used as replacements inside the human eye. His team published its development of the first synthetic copy of the human eye lens in the November, 2012 issue of the journal Optics Express.