Additive vs subtractive manufacturing

For generations, metal parts have been made by stripping away layers of metal and leaving a pile of shavings on the floor. President Obama, in his State of the Union speech this year, presented an alternative to this approach. He said the country's first manufacturing innovation institute in Youngstown, Ohio transformed a once shuttered warehouse into, "a state of the art lab where new workers are mastering the 3-D printing that has the potential to revolutionize the way we make almost everything."
The refurbished warehouse the President mentioned is home to NAMII - the National Additive Manufacturing Innovation Institute. Spokesman Scott Deutsch and the NAMII team are still settling into the century-old structure, with its lofty ceilings and hard-wood floors, but already about half-a-dozen sleek new machines hug the walls ready for use. Additive manufacturing, Deutsch says, is the opposite of the messy subtractive process, "We are only using the material that we need in order to manufacture something. The product consumed is the product needed to make the part."

Printing a metal masterpiece
To illustrate one additive technique, Deutsch lifts the lid of a machine and points to two small trays holding a gray material. What looks like sand, he says, is really finely powdered stainless steel. Using a 3-D printing process called "fusion deposition modeling," or FDM, the machine can form intricate, lattice-work metal parts that would be impossible to make using traditional methods. Deutsch says a print head similar to the inkjet printer on your desktop deposits a small droplet of binder onto the metal powder one layer at a time to build the part. It's then heated to drive off the binder and harden the metal product.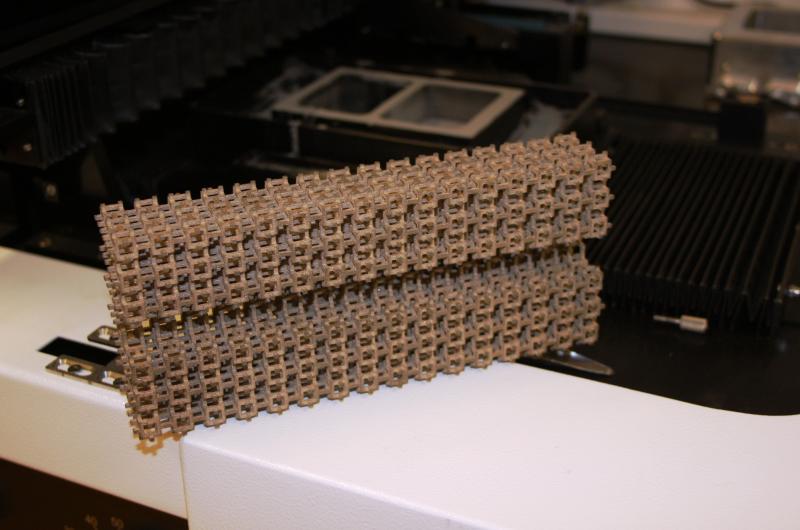 Deutsch and his colleagues rattle off other additive technologies housed here – laser powder bed, electron beam wire, laser sintering, selective laser melting... and NAMII director Ed Morris' favorite additive manufacturing product, lasagna. It's an image he uses to describe how a shiny metal bracket was formed. He says the aircraft part was made with high-strength titanium wire fed into a laser powered 3-D printer, built-up layer by layer like lasagna.

From rust-belt to tech-belt
NAMII is the model for the nation's next 14 proposed manufacturing innovation centers. It's a membership organization with around 70 companies, universities, and economic development organizations paying between 15- and $200,000 a year to use the equipment and, at the upper end, earning a seat on the governing board. Avon Lake-based manufacturer RP&M is a NAMII member and their research specialist Clark Patterson was in Youngstown to test a large scale 3-D printer.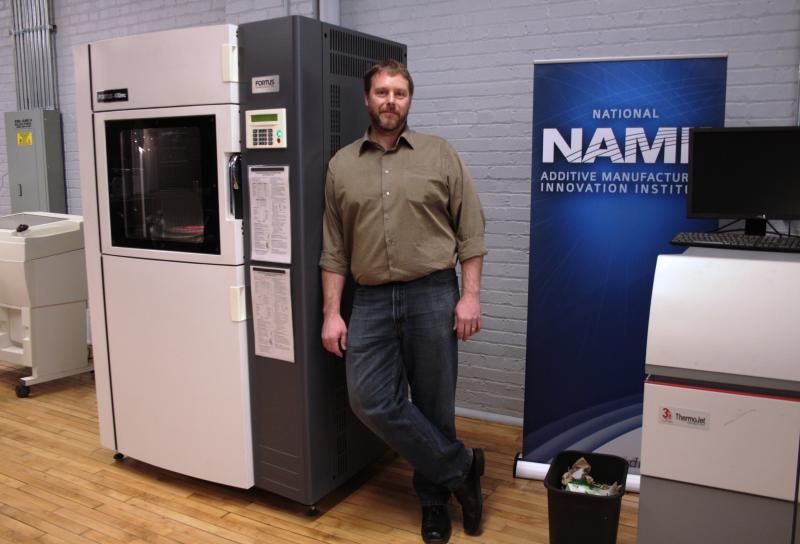 He says it makes sense to house NAMII here because Ohio has a very high density compared to the rest of the nation for additive manufacturing, "even before NAMII existed."

NAMII's Scott Deutsch hopes the Northeast Ohio research hub will improve the region's reputation. He says although the region's been hit hard by economic forces, "we're coming back with things like this, and we're rebranding it. It's no longer the Rust Belt. It's the tech belt." The naming of Youngstown as the inaugural manufacturing institute includes $30 million in federal seed money. Other NAMII members pooled another $40 million to get it underway. The goal of President Obama's $1 billion package sent to Congress is to create similar centers across the country and through research and innovation, perhaps, rebuild U.S. manufacturing.