Motion sensor measures Parkinson's symptoms
Great Lakes Neurotechnologies sales manager Maureen Phillips opens a small, black satchel. Inside there is a tablet computer, a motion sensor, and a charging pad.
The sugar cube sized motion sensor fits onto the forefinger of a Parkinson's patient. The computer then guides them through a standard set of assessments - simple movements that measure the intensity of tremors.
Dustin Heldman is one of the engineers at Great Lakes Neurotechnologies who developed the device that contains a triaxial accelerometer and a triaxial gyroscope to measure, "both linear and rotational motion."
He says the sensor detects fine degrees of movement, "And then we can automatically rate their motor symptoms using the motion sensor data while they're at home, and the data is all sent up to a secure server using mobile broadband and then a report is generated so the doctor can see how the patient is doing."
The company is marketing the device to doctors who treat Parkinson's patients as a way for them to track the ebb and flow of symptoms throughout the day, and to researchers seeking a better way to quantify the effects of drugs and therapy. Phillips says the motion sensor takes the guesswork out of the standard practice of visually quantifying tremors.
Phillips says, with the sensor, "You have high sensitivity, you have an objective method for measuring motor symptoms, and you have something that's consistent and repeatable."
In other words, reliable data -


'Smart bike' varies speed to improve benefits
And that's why Angela Ridgel is using the motion sensor system in her work at Kent State University's exercise physiology department.
She says there is no cure for Parkinson's. But she studies exercise interventions that, "either delay the progression of the disease or decrease the symptoms."
People with Parkinson's disease are often treated with increasing dosages of drugs as the disease progresses. Ridgel says the side effects of medications also increase, "So if we could limit those side effects by having them use exercise in conjunction with the medication then that would be very valuable."
Ridgel developed the 'smart bike' with a German company that incorporates her findings. It's called the MOTOMed Viva2 Parkinson.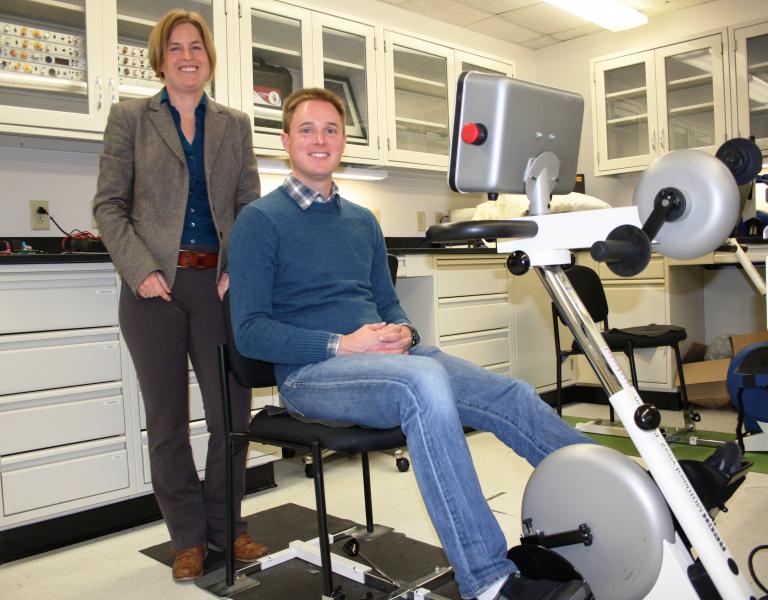 Ridgel and grad student Robert Phillips use the motion sensor on the fingers of Parkinson's patients to measure their tremors after using the smart bike and without it.
What they found is that, with the smart bike, people's symptoms improved dramatically, but not just because of the exercise.
Ridgel found that to see benefits, the speed, or cadence of the pedaling needs to vary - steady pedaling just doesn't cut it.

Her theory behind the results is based on sensory receptors in the legs. She says these sensory receptors measure muscle length, muscle force and joint position, "And those are very responsive to changes in those parameters."

Ridgel says by varying leg movement, "we're promoting those sensors to activate the central nervous system to promote improvements in function."
The goal, says Ridgel, is to reduce drug use through smart bike therapy.


Tango provides Parkinson's benefits
Ridgel says the variable cadence idea extends to another potential therapy for Parkinson's patients, teaching them to tango.
Ridgel explains, "Tango is very asymmetric, very irregular movements, and it's very similar to what we're doing here."
She says preliminary studies have shown that while the regular movements of the waltz or foxtrot don't show improvements, the asymmetric, and syncopated tango benefits Parkinson's patients.
"So you're actually getting the nervous system to increase its activity through that varied input."
Ridgel says any kind of movement helps in holding back Parkinson's, but tango might be the most fun.
I'm jstc with this week's Exploradio.