More than what the nose knows
The Cleveland Clinic's Raed Dweik doesn't like to admit it, but he's a super-smeller. Dweik's not convinced his sensitive nose is a good thing, "… there's so many bad smells around us it's more of a curse than a blessing."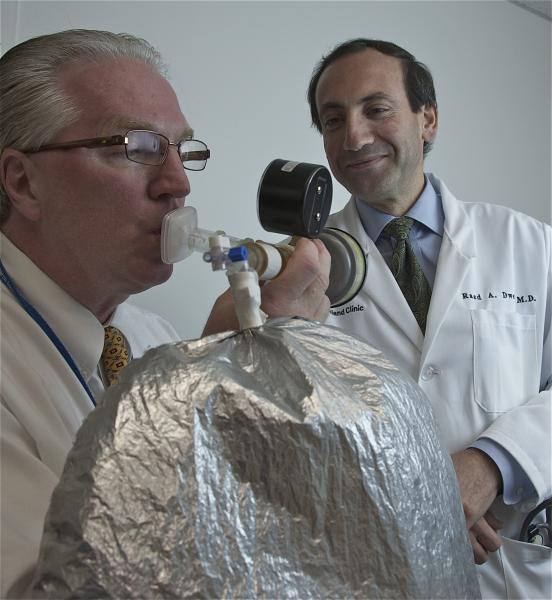 Dweik acknowledges he can identify some diseases by smell.

He says, "if someone has a pseudomonas infection, or a staph infection, or a clostridium difficile infection, they have distinct smells. I don't like to admit that but I can smell them."
Our breath, according to Dweik, also contains clues as to what's going on in our body. We breathe in oxygen, and breathe out carbon dioxide. But in that exhale, our cells give off other chemicals too.

Taking the 'breathprint' of diseases
Dweik wondered if his patients' breath could tell him if there's something wrong. But even with his experience, and super-smeller curse, Dweik says his nose is not the most reliable way to detect diseases, especially in their early stages.
Using sensitive analytical tools in the lab, Dweik found that trace chemicals in the breath reveal distinct metabolic signatures of liver disease, heart disease, and kidney disease. He measured the the composition of the volatile organic compounds in his patients' breath to find specific patterns, "what we call a 'breathprint', like a fingerprint for different diseases."
He says researchers at the clinic are developing analytical techniques using the breath as a noninvasive diagnostic tool.
"We've come a long way from simply smelling, to detecting [disease] early when it's not smellable by the average human nose."

A breath sensor for lung cancer
Across campus one team is studying the breathprint of lung cancer and research coordinator Mary Beukemann is about to give me a breath test.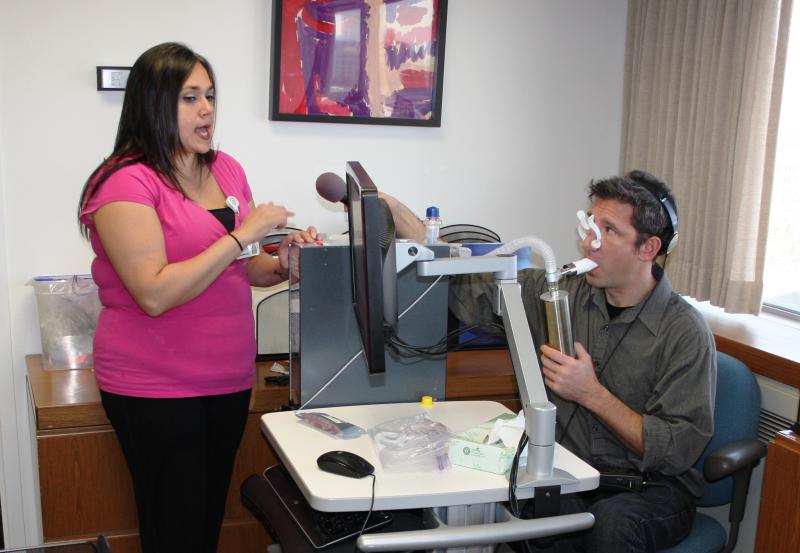 She asks me to breathe through a tube attached to metal box. Inside an electronic nose samples my exhales. It's a colorimetric sensor whose 64 colored dots change when they come in contact with trace chemicals in my breath. The dots form color patterns that are compared to cancer signatures.
Lead researcher and pulmonologist Peter Mazzone says the sensor needs to sample our deepest exhale.
Mazzone says, "the device is engineered to collect just the final portion of the breath where gas exchange occurs between the blood and our lungs."
Mazzone and his team are gathering data from patients known to have lung cancer, and comparing their signatures with people at risk for the disease. He says lung cancer is more than one disease, and it doesn't show up the same in everyone.
He says, "there's probably more than one breath signature and that requires large enough studies to determine which are the appropriate chemicals to look for in the patient you're seeing in the clinic that day."
Breath testing comes of age
Mazzone and his team are probably a couple of years away from a final version of the device. Then begins the arduous and expensive process of FDA approval. But Mazzone is committed to developing a diagnostic tool that can quickly detect early stages of various diseases noninvasively.
"Seeing patients with lung cancer all the time, it excites me that this could certainly help a whole lot of people."
Dr. Raed Dweik is at the center of the Cleveland Clinic's other breath test efforts, diagnosing liver, kidney, and several types of heart disease. He's also developing an at-home breath test for asthma.
He says, "there'll be a slew of tests coming up in the next three to five years of tests that will be applicable in clinical practice."
Dweik says breath tests won't replace x-rays, blood tests, and other diagnostic techniques, but they may soon be another tool in a clinician's arsenal, with the promise of a painless, non-invasive look inside the chemical processes of the human body.