The need for better tumor models
Grad student Ehsan Atefi carefully takes a small tray out of an incubator and sets it under a microscope. He brings the image into focus and invites me to take a look. It's an irregular, gray clump of breast cancer cells floating in a small liquid sphere. Atefi says these cells need a little more time, another 8 hours or so, before they will assemble into a tiny, ball-shaped tumor.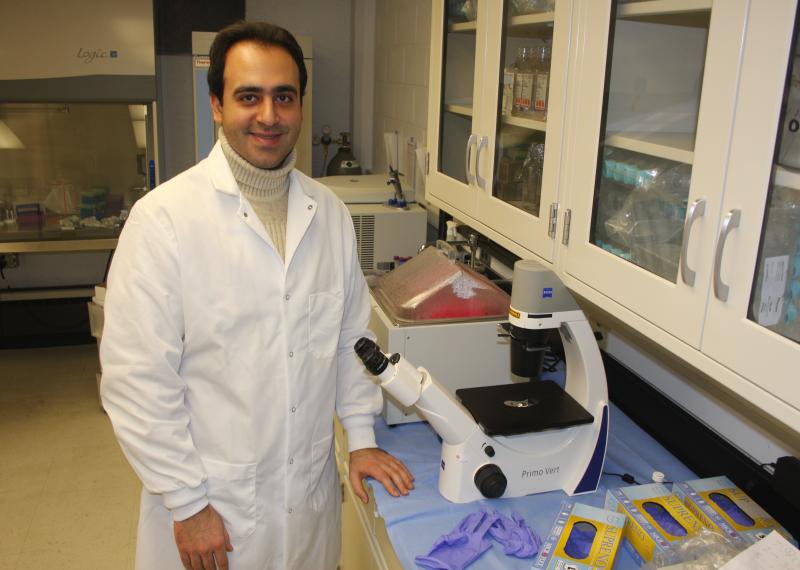 Up until now, lab cultures like this have been two-dimensional affairs where cells grow across the bottom of a petri dish. But the screening of anti-cancer drugs on cells in 2D doesn't always predict how well they'll work against tumors in the body. That's why there's a big push right now by the NIH and other funders to develop a fast and simple way to grow cancer cells in 3D for drug testing.
And that's exactly what team leader Hossein Tavana is doing, using a simple, water-based system and a liquid dispensing robot.

Printing cells in 3D
The pipetting robot is programmed to dispense 96 tiny droplets of a solution containing floating cancer cells at a time.
The two-phase aqueous cell culture system was developed by Tavana and his colleagues at the University of Michigan before moving to Akron.

Tavana says the two solutions contain small amount of differing, bio-compatible polymers that repel each other, sort of like oil and water.
The cancer cells are mixed in a denser solution, containing dextran, and 'printed' into a vial containing diluted polyethylene glycol, or PEG, which is less dense.

Tavana says the denser, cancer cell containing liquid sinks to the rounded bottom of the vial, and, "because cells cannot attach to the surface, they aggregate and form this three dimensional structure we call a spheroid."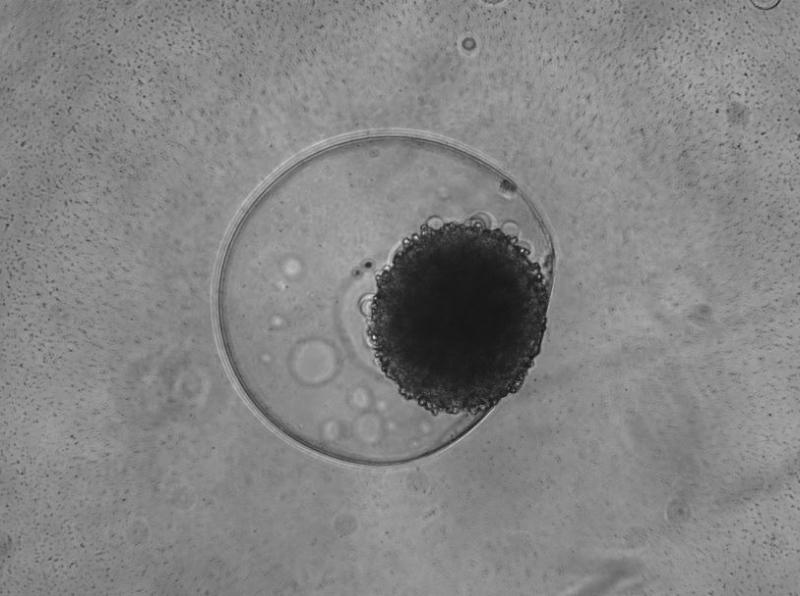 This two-phase system, combined with the pipetting robot, provides a simple, automated solution to the problem of creating 3D tumor models for drug testing.

Speeding up drug discovery
Stephanie Lemmo is another of Tavana's grad students. She says it doesn't take long for the clump to begin acting like a tumor. Within 24 hours they have formed a tight spherical mass.
Lemmo then adds varying concentrations of anti-cancer drugs to the vials containing the tiny tumors and measures how quickly the drugs diffuse into the ball of cells.

She's finding the spheroids are a more accurate predictor of the effectiveness of anti-cancer drugs than screening done on two-dimensional cell cultures.
For Lemmo, the fight against cancer is a personal one. She says in high school she contemplated a career in cancer research, but later, when her mother was diagnosed with breast cancer, she joined the fight. Lemmo says her mother, "is in remission now, so that's good."
Tavana has the same sense of mission. He says his grandfather was diagnosed with cancer and died very young, "He was like 52 years old," Tavana says, and the need for progress is always in the back of his mind, "so if any of the work we're doing makes even a small difference someday, then we are doing our part."
A $3 billion dollar fight on all fronts
Right now Tavana and his team are developing 3D tumor models for the deadliest forms of breast cancer and a type of skin cancer. Their next project is developing a model for how cancer cells migrate out of tumors.
The federally funded work at the University of Akron is a small part of the $3 billion allocated last year in the war against cancer. But Tavana believes 3D tumor models will soon be the standard across the industry for testing the latest weapons in the fight against the dreaded disease.