Loading...


Sports




Monday, October 7, 2013




Cleveland welcomes 2014 Gay Games athletes, and announcing 2018 host city




The 10th games will land in London, Paris or Limerick, Ireland, and the announcement is expected today in Cleveland


by WKSU's KABIR BHATIA
This story is part of a special series.



Reporter
Kabir Bhatia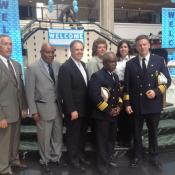 Cleveland safety staff, including Safety Director Martin Flask (third from left), want to assure athletes that the region welcomes them to the Gay Games next August. Also pictured (l to r) are Police Chief Michael McGrath, Assistant Public Safety Directors Barry Withers and Laura Palinkas (back), Assistant Fire Chief Edward Whatley (front), EMS Commissioner Nicole Carlton (back), and Fire Chief Patrick Kelly (front).
Courtesy of KABIR BHATIA
Download (WKSU Only)
In The Region:
The host city for the 2018 Gay Games is being announced here this morning – it will be either London, Paris or Limerick, Ireland. Meanwhile, the 2014 games begin here next August, and Cleveland is already reaching out to welcome and reassure the thousands of athletes who will converge on Northeast Ohio. WKSU's Kabir Bhatia reports.
About a hundred people gathered at Tower City Friday to send postcards welcoming the 2,000 registered participants in next year's games.

Runner Michelle Tomallo says the close proximity of so many venues in Akron and Cleveland is one reason the games are being held here.

"The other reason is: if this event went to Boston or Washington, D.C. – the other two runners up – this would have been just one more event, and one more gay event, in a very large city. Here, it is a large event where there is a tremendous amount of focus and support."

The Tower City event also saw about a dozen city safety officials on hand, including Safety Director Martin Flask. He wants to assure that some high-profile crimes don't color visitors' perceptions of the city.

"We have 30,000 visitors from around the world coming to the city of Cleveland next year. We want to make sure [that] when they come, they enjoy themselves. They spread good word about the city of Cleveland. We're proud to be Clevelanders and we want other people to understand that we're a welcoming community that embraces diversity."

Organizers expect 10,000 people to eventually sign up for the Cleveland games. The Gay Games launched in San Francisco in 1982 and occur every four years.
---
---
---