Loading...


Sports




Friday, February 7, 2014




Cleveland Gay Games organizers are buying TV ads for the first time




Gay Games IX will be the first to air TV spots in the games' 32-year history, and they'll be on NBC stations during tonight's Sochi Olympics


by WKSU's KABIR BHATIA
This story is part of a special series.



Reporter
Kabir Bhatia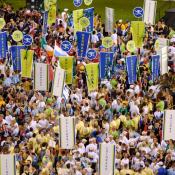 The 2006 Gay Games were held in Chicago, giving the city an $80 million economic boost
Courtesy of Dmitri Margolin
Download (WKSU Only)
In The Region:
In a first for the Gay Games in its 32-year history, organizers are publicizing the event by buying TV ad time. As WKSU's Kabir Bhatia reports, the placement – during tonight's Sochi Olympics – has a dual purpose.
The ad states, "This year, the most inclusive sporting event in the world will take place in Cleveland and Akron."

The 2014 Gay Games kick-off in August, with about 3,000 people already signed up to compete. Executive Director Tom Nobbe says -- unlike the Sochi Olympics in Russia -- Northeast Ohio will allow athletes to be themselves. The point is driven home in 30- and 60- second ads running tonight.

"It's not a rah-rah Cleveland-Akron. It's more that this is what it's all about in terms of bringing your whole self -- the ability to bring your whole self -- to a sporting event like this. And kind of juxtaposing the Sochi Olympics and all the controversy around gay and lesbian athletes, and their ability to be who they are competing over there -- versus, that's what we're all about in the Gay Games."

Nobbe says the total cost for production and regional air time is more than $25,000. The ad runs tonight just before 9 p.m. on Channel 3, and the NBC stations in Toledo, Dayton, Columbus and Buffalo. Nobbe adds that anyone signing up online to compete in the games will get a discount, and $20 of the registration fee will go toward the Russian LGBT sports federation.



---
---
---