From rainbow lasers to graffiti
Last week before the Gay Games kicked off, a rainbow beam of lasers split through the downtown Cleveland sky. It was the first of several art exhibits to accompany the international sporting event. Since then, local artists have been busy painting and taking photos for the world to see.
At the bustling Gay Games social hub, Festival Village, in downtown Cleveland, a group of artists is busy painting about six, 8-foot-by-8-foot wooden walls. Miriam Fedorovich is part of the new non-profit Graffiti Heart, which gets local artists together through projects to raise money for charity. With a small cup of yellow paint, she's adding detail to a vibrant mural that's nearly twice her size.
"It's kind of a dreamscape… A couple of mountains, and then three figures kind of flying into this cosmic sunset with a rainbow road. Just getting to see the whole process of when this was just a bunch of wood sitting in the back lot of the studio, and now it's these beautiful paintings."
Working until sunset for a good cause
The group of artists has been working on the massive walls each day until sunset during the Gay Games. Each has bright, bold colors and many pay tribute to Cleveland, with cityscapes and landmarks. Two walls allow festival-goers to dip their hands in rainbow paint and write messages.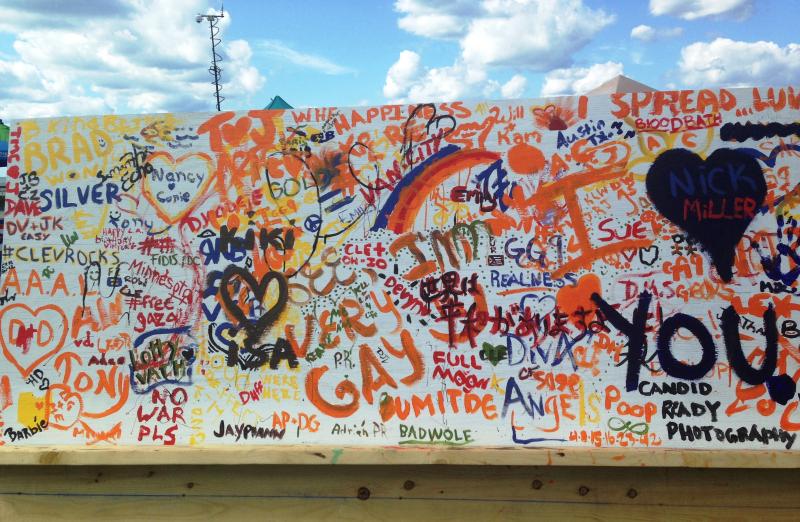 When the walls are finished, they'll be displayed during closing ceremonies this weekend and then auctioned off to benefit underprivileged children.
Graffiti Heart member Chad Fedorovich says creating art in a public space is exhilarating. "Sometimes you do art, and nobody will ever know who did it. They didn't see who did. So it's good to be able to tell a story while you're painting. It's my way of expressing myself."
Arts and culture take center stage
The public art exhibit was a concept of the Gay Games festival village committee. Brian Thornton says the extent of arts and culture offerings at past Gay Games have been limited to a band and choral concert. He wanted to add a visual component that everyone could see – one that also celebrates the city.
"We try to talk to all the athletes as come in, especially if we see medals, we talk to them and ask them how they like the city and we've heard them say, almost unanimously, 'Our perception has changed because we're seeing beyond what our perception of Cleveland is.' And part of that is the arts and culture that we're offering here," Thornton says.
"Love Makes a Family" photo exhibit
About a mile away at Trinity Episcopal Cathedral, the mood is much more subdued. People make their way through an empty room with creaking floorboards and simple, gray walls for the "Love Makes a Family" touring photo exhibit. Curated by the nonprofit Family Diversity Project, it features portraits and stories of LGBT people and their families. Bobbi Reichtell, director of the downtown community development group Campus District, wells up with tears talking about what bringing the exhibit to the church means to her.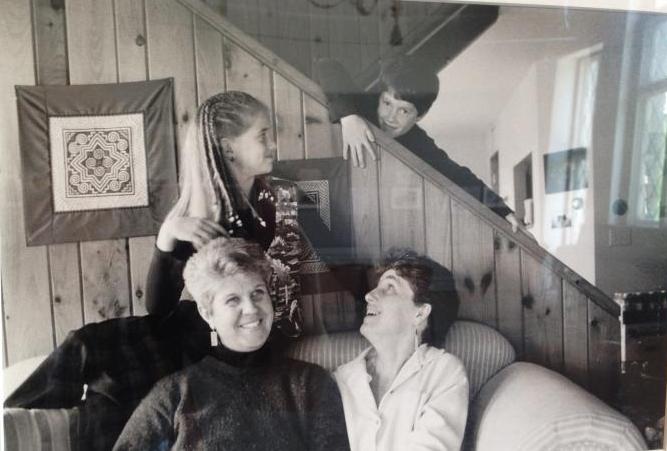 "It's very personal to me…My daughter is gay and I think these photographs and the stories that go along with them are very powerful and very moving and they tell a story about love that has no bounds," she says.
Athlete portraits in real-time
Another art exhibit on display during the Gay Games features the athletes themselves. "Pride in the Moment" was developed by the Akron Area Arts Alliance and Summit ArtSpace. About a half dozen local photographers attend select events and take portraits of the athletes. Their images are then posted to an online gallery in real-time. Kent State photography and multimedia professor David Foster has been shooting martial arts and swimming. He says the project captures the true spirit of the Games.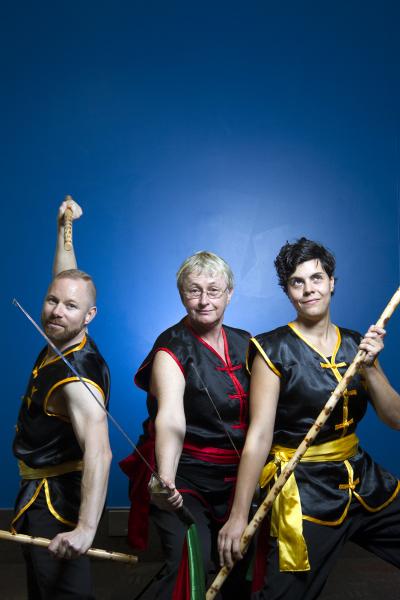 "When you do a portrait well, you can see something else deeper inside the person other than what a head shot would convey. And I think that's the whole goal of a photographer is to feel comfortable enough with somebody that they will let down their guard and will feel comfortable with themselves and I think that's what the whole Games are about."

A lasting impact
Foster hopes all of the Gay Games art displays have an impact that lasts beyond this week.

"It's amazing time in the region and I think if more of what artists focused on -- what's happening here and the stories of the people that are happening here -- I think it can bring the community together in a way that we haven't seen."

From photographs to paintings, the Gay Games made sure to include local artists so that athletes from all over the world can see the colors of the region. Many of the artists say it's another step in Cleveland's renaissance.