We're at Rockside Station in Independence for Ales on Rails, the Cuyahoga Valley Scenic Railroad's 4th annual holiday beer- tasting excursion.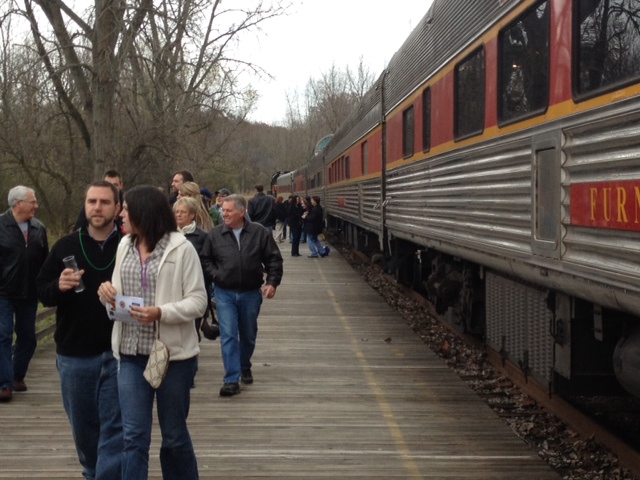 Kelly Steele-Moore is the railroad's marketing director.
"Along the way you're sampling five different beers, seasonal themed. Beers to complement your holiday table. And each beer is served with an hor d'ouevres that's been designed to complement that beer. And again you're sitting back relaxing, taking a trip through the national park. It just doesn't get any better."
This Saturday afternoon with 250 passengers Ales on Rails is sold out.
Trainman John Coyne is one of 34 volunteers on today's ride. He says he helps out because he likes people… and trains.
"I live just a mile from the park so I can hear the trains when they go by. Especially the steam train."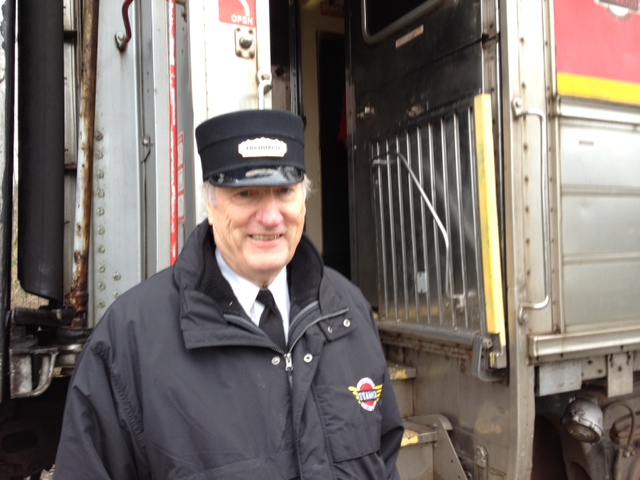 Coyne's been one of the railroad's 2500 volunteers for the last 5 years.
" The first year at the North Pole standing out there waving to all the children whose noses were up to the windows. But this is a little different. This is more adult. This is all adults. Everyone has to be 21 on here. This is adult Polar Express."
Adults might tend to act like kids with volunteers like Dottie Burson pouring a different brew every 25 minutes.
"I'm 13 years with the train."
Do people ever get rowdy?
"A little. I haven't really had it overly to where it's been on the obnoxious side. I've really enjoyed the people. It's just that the more comfortable people get the more talkative they get so volumes tend to go up a little bit more. So I just deal with that. And it's fun."
She's serving food with each beer and manages to keep her balance while juggling the bottles and plates of food.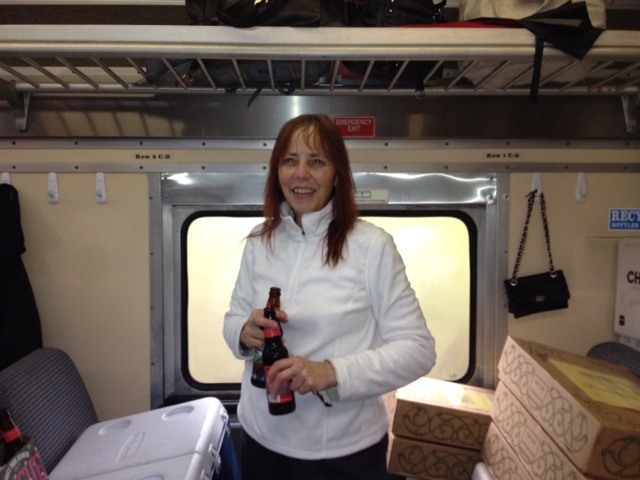 "It comes with keeping your legs a little bit apart and using your knees as you spring. I'm retired Navy. I do have sea-legs."
Once seated, every passenger gets an empty glass and volunteers keep filling them from the crates Levi Lambert of Heidelberg Distributing lugged aboard.
"Our first offering is from Booneville, California. It's Anderson Valley's Winter Solstice. It's their tribute to the winter."
There's a lot of consciousness lately of eating seasonally, eating foods that are in season. But beer, too?
"Absolutely. Along with the food there is definitely a pairing of craft beer more and more with food. And the craft beer segment has been growing at a rate of 6 to 8 percent over the last 10 years."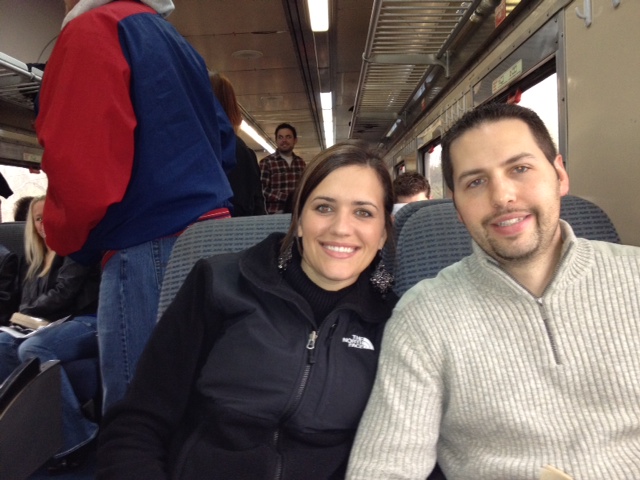 Sara Fullington of North Royalton is treating her craft-beer loving husband Jason to Ales and Rails for his birthday.
"Yes we're really excited. I really enjoy the park and Jason enjoys beer."
He's particular about it.
" I like good beer, craft beer, like Great Lakes Beer. There's Thirsty Dog, Southern Tier, those types. I don't like the traditional American like Budweiser, Miller, or Coors. I'd rather drink coke or Pepsi versus something like that. So I like good beer. I guess I'm kind of a beer snob."
He likes what's offered today.
"Anderson Valley, Rogue, Chimay, and Thirsty Dog, which is one of my favorites. So I was very happy when I saw that."
Sara likes the appetizers made by Hattie's Café.
"Chicken quesadilla triangles and cheese straws with cheesy dip, and bacon-chile relleno rolls and a smoky roast beef on a roll and a mini apple pie."
It's also Mike Milan of Chesterland's birthday, so his wife Nicole bought seats on the train.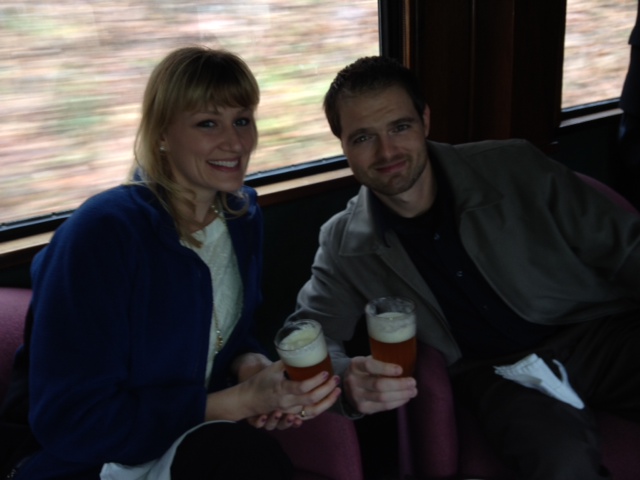 "If you'd ever seen this man drink beer you'd understand."
Nicole popped for the expensive seats. You can ride the beer train for as little as $45 or as much as $80 per person depending on how much elegance you want. In the cheap seats passengers sit in pairs facing each other. In the first class car the seats recline. And there's a domed car where you sit high enough to get a panoramic view of the meadows and pines, the river and ravines, and maybe spot a fox or a deer.
The décor in the domed car is art deco and the atmosphere serene. Just as passenger Dawn Harper of Cuyahoga Falls had hoped.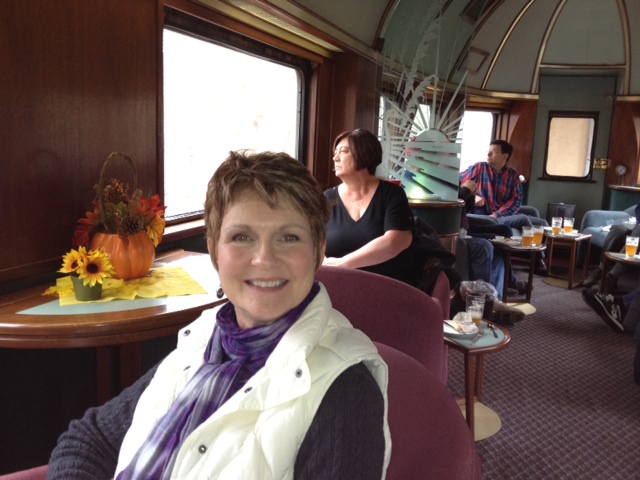 "It's very, very cool. It's very 40-ish, very early 50-ish. Very cool."
She has a great seat for enjoying the scenery. "It's beautiful as it goes by."
She says that was more of an attraction than the beer. "For me, yes, but the beer helps."
In this fourth season, the secret's out about Ales on Rails. We meet passengers from Erie and Pittsburg, Columbus, Lexington Kentucky.
And Tina Edwards of Atlanta, taking her parents, brothers and sisters-in-law along for the ride.
"Well it was a beer-tasting excursion that I thought was appropriate and had some fun for the family to come out and enjoy the day together.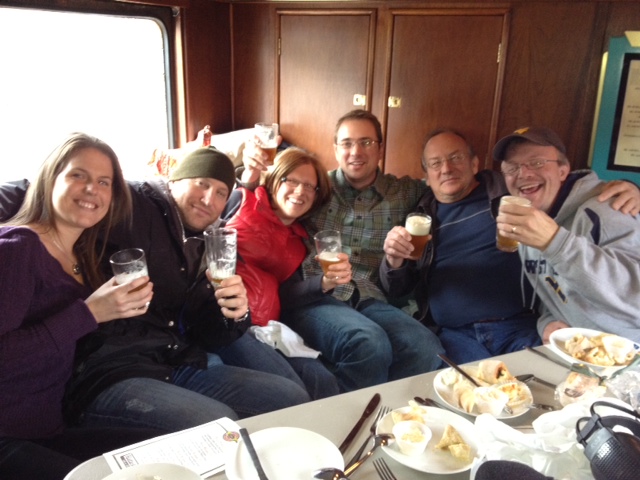 And beer's the key word!"
The Edwards had planned to ride in the most expensive car, the St. Lucie Sound. Built in 1947 for the Florida East Coast Railroad, it was purchased by the Cuyahoga Valley Scenic Railroad in 1995.
All the 80 dollar seats in this car are armchairs or couches with side tables. But for the Edwards family, it didn't work.
"We headed for the St.Lucie Sound and we went to the front of the car, but we couldn't sit together so we moved to the rear of the train and found a spot where we could all sit together, and we're all enjoying beers. It's beautiful. We have our own private compartment here. We love it."
The Cuyahoga Valley Scenic Railroad beer tours are over for the season. But the "Grape Escape" wine-tasting excursions start up again in January.
And that's this week's Quick Bite. Next Friday we're heading to Spice of Life in Cleveland for locally-sourced, cocktails customized for the season.