Two unconventional businesses operate under one roof on a busy stretch of Mayfield Road.
A new sign above the door says they're the "Snaction Heroes."
No Whey! Chocolates makes vegan candy, and Plant Kingdom makes hemp treats.
They share a commercial kitchen, retail space and what Plant Kingdom's Jeremy Koosed calls a common mission: health benefits to customers.
"The benefits to getting strengthening whole plant foods in your diet or good omega fats instead of dairy or trans fats or saturated fats or cholesterol."
Like the milk-free milk chocolates his partners make.
No Whey Chocolatier Ethel Warnick says she and her daughter Stacy started making it 5 years ago.
"Stacy's brother became vegan and missed milk chocolate so I decided that if I could I would try to recreate it vegan."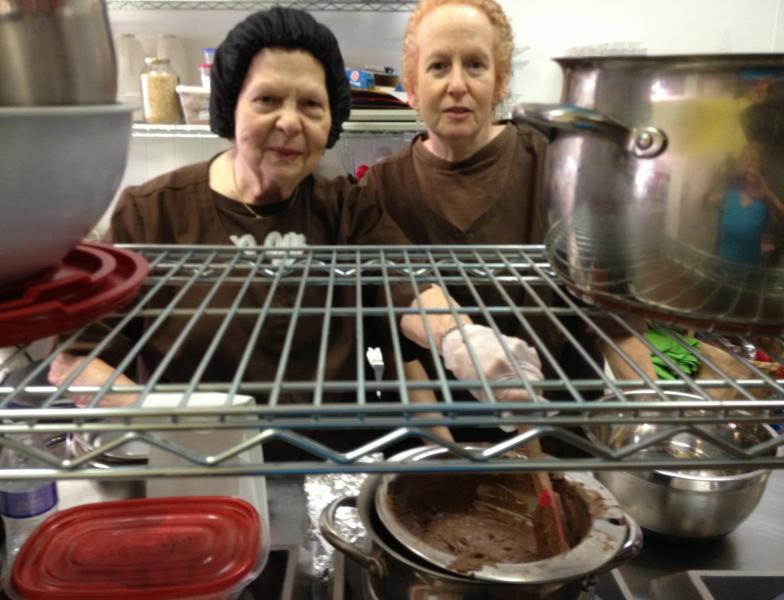 It was a vegan restaurant in Akron, Ms. Julie's Kitchen, that helped launch Jeremy Koosed's hemp-based pastries 5 years ago. The Lyndhurst shop that opened in November is Plant Kingdom's first Cleveland-area retail headquarters, but area coffee shops also carry his snacks.
Forced to import
Koosed has to import his key ingredient from Canada, because hemp, a versatile crop grown for millennia in Asia and the Middle East and prized by the Puritans as well as George Washington and Thomas Jefferson, is illegal to grow under federal law.
You can produce it as food, buy it, and sell it, but under the Controlled Substances Act of 1970, you can't plant it.
Hemp is cannabis, but it's not marijuana. It contains a .3% trace of THC compared to up to 20% in pot.
Koosed finds most people understand the difference, but he recalls having to calm down a man at a Medina farmers' market.
"He's like 'You're selling marijuana cookies?' And I was like 'No these are not marijuana. This is not drug-valuable. This is not ganja brownies here.'"
You could eat hemp all day and it wouldn't make you the least bit high, but Koosed says it might make you healthier.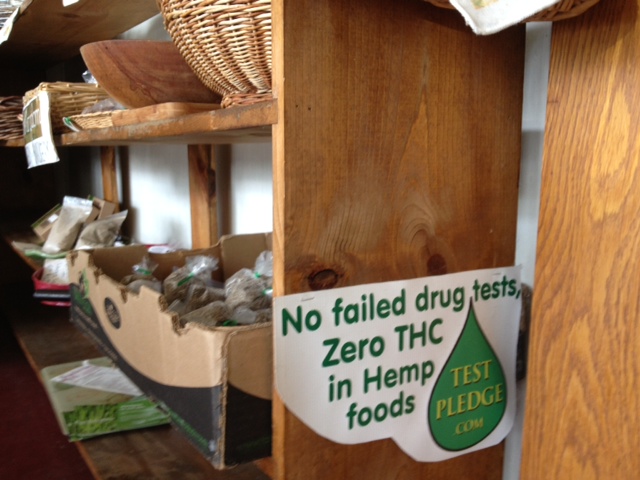 "Hemp seed is one of the most nutrient-dense seed sources of protein. By that I mean protein density is as high in hemp seeds as it is in soy or ground beef, especially with the shell removed."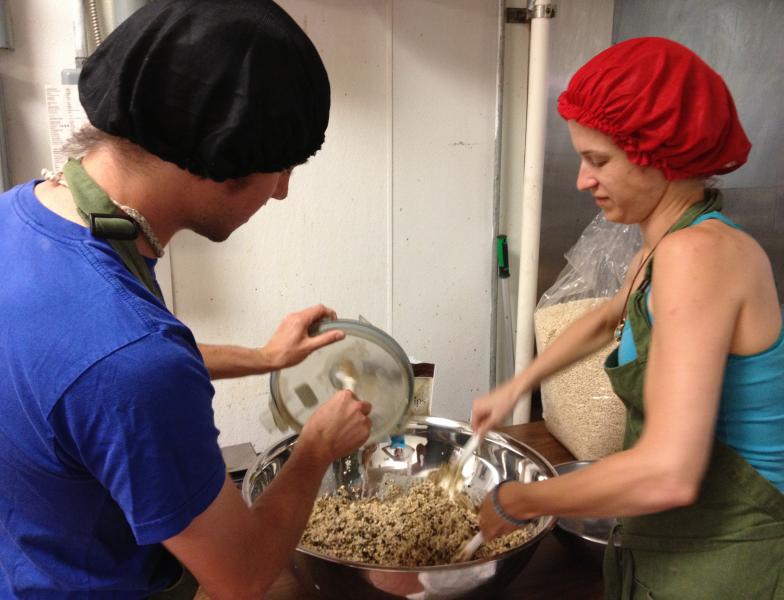 Hemp has the 9 essential amino acids and hulled hemp seeds contain all the essential fatty acids.
Koosed sells whole hemp nuts you can munch on right out of the bag, but he uses hulled hemp seeds in most of his
energy bars.
"So the nice thing about hemp seeds with the shell is that they're snappy crunchy so they're more snacky."
Easier to digest than most snack foods
Some of Koosed's customers have special dietary needs. They can't munch on typical processed snack foods, but find hemp easily digestible.
Koosed's customers include bikers, hikers, and runners who prefer hemp to trail mix and late-shift workers who like it better than what's in the vending machine.
"The best feedback that we get from snackers is how like long-lasting the energy has been," he says. "Whether it be like an afternoon snack, just like kind of get you through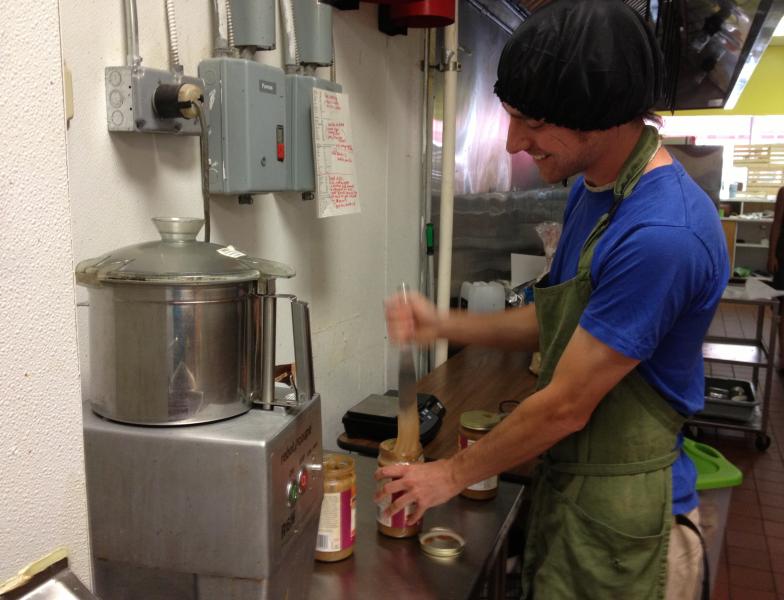 the day, breakfast on the go thing."
Koosed's on the go a lot himself, sourcing his organic grains from Amish country, selling his wares at farmers' markets and community events, stocking his shelves and hand-making energy bars from scratch three times a week.
Jeremy Koosed is 31. His interest in healthy eating dates to his college days in Athens where he discovered goo balls, a no-bake energy booster that's become one of his most popular products.
He tweaked the recipe.
"First with granola, then as I found the Ohio-grown spelt cereal I switched to that and organic cornflakes. And really as like a protein-packed snack it's got the most protein density from hemp seeds, peanut butter, and almond butter. It's over 400 calories in a goo ball because you're getting straight nut butters and plenty of the hemp seeds, chia seeds, cherries and chocolate chips."
New hope for legalization of industrial hemp
Koosed just wishes he could get the hemp seeds as easily as the other ingredients. But he takes heart from the legalization of recreational marijuana in Colorado and Washington.
"It's really reminded people that this is a valuable resource. I'm always keen to distinguish between uses of cannabis, the variety, and assure everybody that like medical marijuana or their recreational marijuana that we're not producing those. We're a law-abiding bakery."
But Koosed wants the law changed. He petitioned Northeast Ohio's congressional delegation to back an amendment to the farm bill that would pry open the door by letting universities grow hemp for research. Representative Tim Ryan of Niles supported it. Cleveland-area Congresswoman Marcia Fudge voted against it but says she's open to reconsideration. So far, like the farm bill itself, the amendment's going nowhere.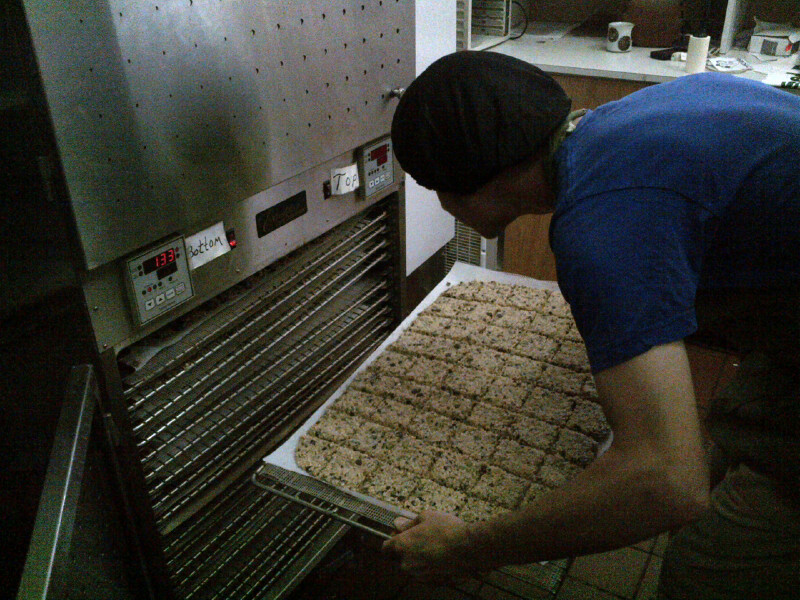 And although 10 states have established protocols for growing industrial hemp farmers aren't planting it. They worry agents of the Drug Enforcement Administration would just
confiscate it.
China's the world's biggest hemp producer and most industrialized nations allow the cultivation for uses including paper, fabrics, rope, building materials, and food.
But until the U.S. joins the club, Jeremy Koosed will keep importing it from Canada.
And that's this week's Quick Bite.
Next week the topic is aquaponics. We'll meet a couple in Ashtabula growing specialty greens in their basement with the help of a hundred goldfish.