Max and Marilyn Wulff are semi-retired but full of energy. Still, they couldn't grow their specialty greens without their helpers: the koi that live in their basement.
The rainbow-colored ornamental carp swarm incessantly in a 650 gallon tank.
"There's about 100 in this tank and maybe 40 to 50 in a smaller tank outside, says Marilyn. "They're fun. They eat several times a day and create quite a ruckus when they're fed."
Max looks forward to feeding time as much as his finny friends do.
"The fish are like a bunch of teenagers in a pizza shop."
A symbiotic system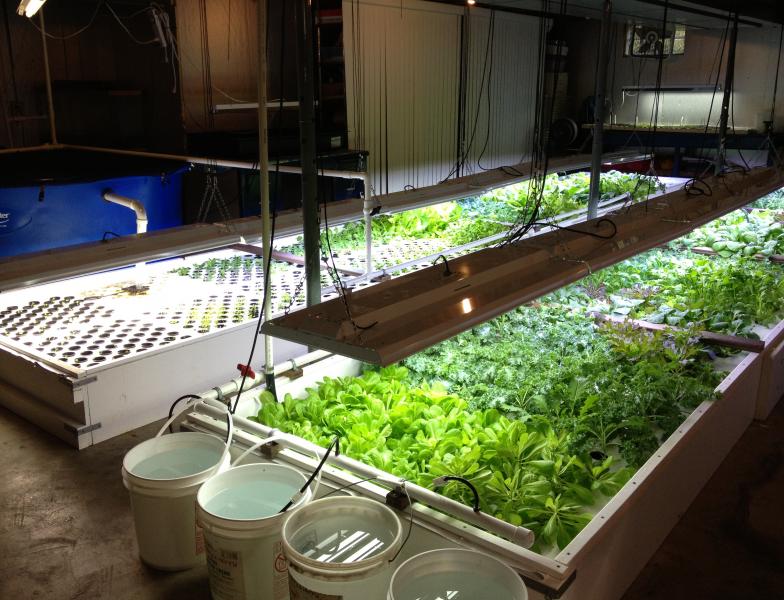 The hot tub full of frisky koi is essential to 1,700 plants that float in rafts under grow lights on the other side of the basement, their roots dangling in nutrient-rich water.
All the Wulffs have to do is watch the plants grow while all the koi do all day is eat -- and defecate.
"There's a biological process that takes the fish waste, which is ammonia, and turns it into plant food. The plants then in turn filter the fish waste and send it back clean into the fish tank."
The 200-square-foot aquaponic farm needs electricity, mostly for the grow lights and to keep the fish comfortable at about 80 degrees.
"The cost of the electricity has got us down a bit," says Max Wulff. "It's not what I expected."
Fans must operate constantly, too, simulating the wind to strengthen plant stems.
But thanks to the force of gravity, it takes only a single 35-watt pump to circulate the water through tubing from the fish to the plants and back.
The system uses city water.
"Water costs are minimal," says Marilyn Wulff. "Once the tank is full and the two troughs are full, the only water we replace is due to what might evaporate."
It's an ancient growing method
Aquaculture is the growing of fish, and hydroponics is all about growing plants in water. What the Wulffs are doing is called aquaponics. The Aztecs and the Chinese were doing it thousands of years ago, but it was only last year that the Wulffs got interested.
"It was a snowy day last January," says Max. "I went to the library and picked out a brand new book."
Aquaponic Gardening: A Step by Step Guide to Raising Fish and Vegetables Together authored by Sylvia Bernstein.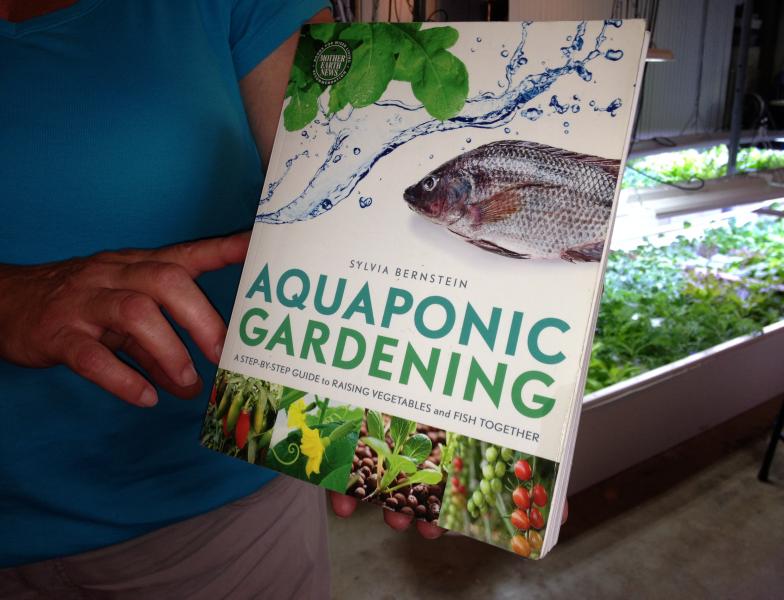 "It took me about three days to get through it and I read it again, and I read it again. ... Finally the library called and said, 'Please bring this back. Someone else wants it.' So I went to the bookstore and I bought the book."

The concept appealed to Max Wulff in part because fish always have.
"We've had fish tanks forever, including maybe 5,000 gallons of fish tanks in our last house. We raised fancy goldfish, lion heads, and things like that."
They're not farmers, not even gardeners
The Wulffs raised three kids, too. But garden vegetables?
"No," Marilyn laughs. "Maybe flower pots on the deck."
But now they're harvesting specialty greens once a week and doing a bustling business at the Bridge Street Farmers' Market.
"Every week," says Marilyn, "we put in about 300 to 400 new seedlings and we take out that many grown plants."
Their first harvest was June 9th of last year, coincidentally the first day of the farmers' market. It had been six months since that fateful dreary January day in the library.
It took some training
That February, they attended an aquaponics workshop in Tennessee, then traveled in April to Florida for more training with the mother of aquaponics, Sylvia Bernstein herself.
As soon as they got back to Ashtabula they were raring to go. There was equipment to buy; they were able to do some of the shopping online.
"Aquatic Echo in Florida has a lot of good stuff," says Max, "as well as a local koi fish farmer called Blackwater Creek. And the lighting system came from a local lighting shop on the west side of Cleveland."
No soil means no need for chemicals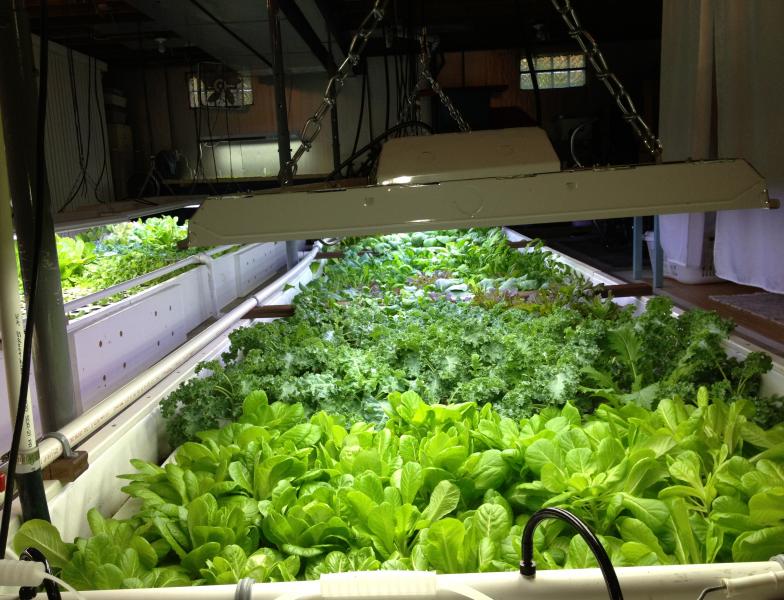 Once their fish arrived from Florida on a FedEx truck, they didn't need much else to get started.
For the seedlings…just tiny cardboard cups of what looks like dirt or peat moss but turns out to be chopped up coconut shells mixed with vermiculite.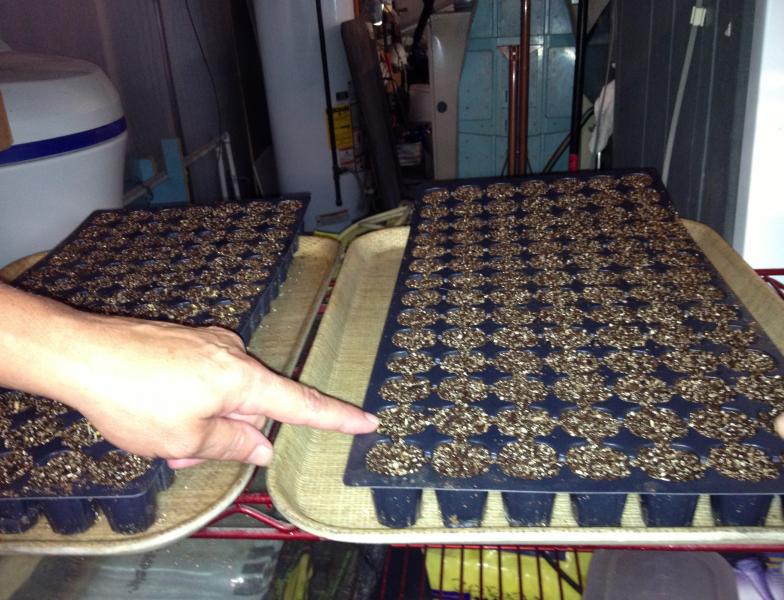 With no soilm there are no microbes, bacteria, or bugs.
And no need for pesticide or fertilizer.
"The fish provide the fertilizer, says Max. " The ammonia is the fertilizer."
When seedlings grow to about 2 inches, they're ready to be set on rafts to bask under the grow lights.
And in just six weeks they're ready to go to market.
Marilyn Wulff says they've had only one crop failure so far.
"We didn't do well with spinach, but almost everything else that we randomly chose ... did very well in aquaponics. We have good luck with bok choy, kale, arugula, swiss chard, things that make a delicious salad."
Snacking along with the fish in the basement
Max doesn't wait for meal times to sample his crop.
"Anytime that we come down here I nip off a bite of kale or a piece of swish chard or mustard green. Hey, this stuff really tastes good."
Wulff retired about 12 years ago after selling pork for 20 years at Cleveland's West Side Market:
"And we sold a lot of fresh pork. Cutting and wrapping and getting it to the consumer was physical hard work. I stood on my feet for 10 and 12 hours a day. This is nothing like that whatsoever."
Something they can enjoy together in semi-retirement
The Wulff's moved from Parma Heights to Ashtabula about seven years ago to be closer to Marilyn's mother and tried to stay in the food business.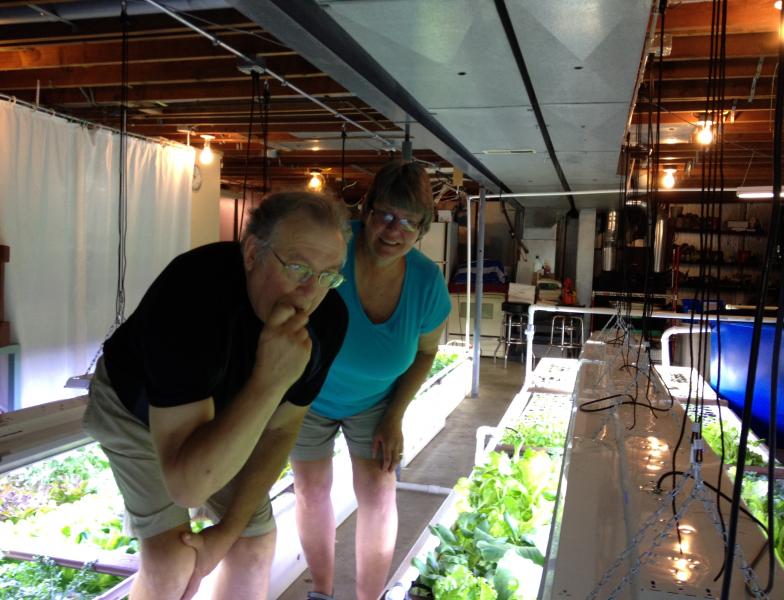 "We ran a beach concession stand for four years and have gotten into a hot dog bratwurst cart and are just looking for our next opportunity that we enjoy doing and we can do together."
Aquaponics proved perfect for their later years.
"It pretty much takes care of itself," says Marilyn. "There's no dirt, no bugs. We're harvesting a plant at waist level. There's about one or two hours a week that you could consider hard work, but after that it's just all fun."
And they've just gotten started. Next spring they might hang on to the fish tank and growing troughs, but move the gear out of the basement to cut down on those electricity costs.
"We plan to do a greenhouse soon," says Max. "This was an experiment to get started to know whether we could grow. But we're anxious to get outside and into a natural system where we would have sunlight working for us all the time."
Customers are intrigued
Meanwhile photos of the aquaponics system displayed on the Wulff's farmers' market stand have customers coming down to the basement for a look.
"Some are very interested and ask to bring other people back. And also they're looking for local-grown vegetables and this is very local."
Marilyn says the taste is uniquely different from vegetables grown in soil.
"It's pure. It's not affected by environmental changes that occur naturally in outdoor farming. It doesn't come from 3,000 miles away. It's not sitting in a truck for two to three days. It's not sitting in a cooler for two or three days. This is the perfect way to grow and eat vegetables."
The Wulffs call what they grow "Happy Greens."
They're not available outside of the Wulff's basement and the Ashtabula farmers' market, but someday you might find it in your dinner salad. The Wulffs have some local chefs interested in aquaponic produce.
And that's this week's Quick Bite. Next week we're invited to a vegan restaurant in the heart of Cleveland's Public Square.