Loading...



From WKYC.COM / TV 3
Get the latest school closings and delays


Funding for WKSU is made possible in part through support from the following businesses and organizations.
---
For more information on how your company or organization can support WKSU, download the WKSU Media Kit.

(WKSU Media Kit


)
---

Social Issues




Friday, November 22, 2013




Cleveland Orchestra musicians have a Quick Bite in Vienna




Musicians say playing the world's greatest music gives them an appetite


by WKSU's VIVIAN GOODMAN
This story is part of a special series.



Reporter
Vivian Goodman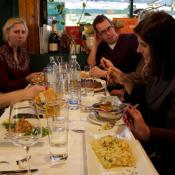 Lunch at Vienna's Naschmarkt after Tuesday's rehearsal at the Musikverein. l. to r. Violinist Jeff Zehngut; violinist Katherine Bormann; bassist Charles Carleton; Cleveland Orchestra Communications Director Ana Papakhian; and the orchestra's PR consultant in Vienna, Claudia Kapsamer.
Courtesy of Zachary Duvall
Download (WKSU Only)
In The Region:
Playing Beethoven and Shostakovich all over Europe can give you an appetite. Cleveland Orchestra musicians are on tour eight weeks a year, so they learn how to eat well away from home. Many of them are dedicated foodies. Thursday in Vienna, after a rehearsal at the Musikverein, WKSU's Vivian Goodman joined a trio ... for lunch.
---
---
---
---