Jim Converse has no doubt what would have happened to him if he hadn't gone vegetarian.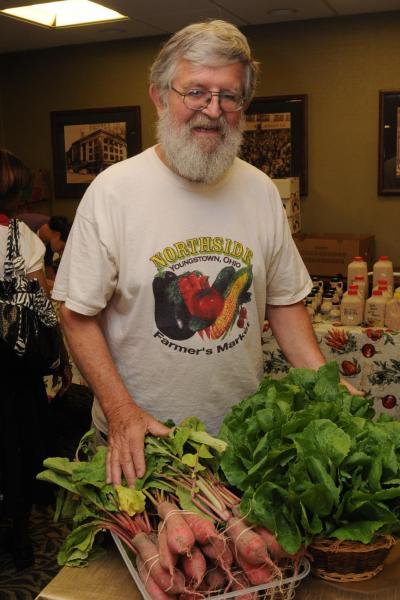 "I would have died. My body just collects too much cholesterol."
But changing his diet worked.
"I'm still alive. Pretty healthy. Feeling good, yeah, and enjoying it, too."
He's a ruddy-faced, bearded, soft-spoken 70-year-old, still able to grow elderberries and blueberries at his place in Vienna, haul crates of fruits and vegetables off trucks, set up tables, manage two farmers' markets, and play with his seven grandkids.
His own dad died at 62, and Converse was 63 when he suffered his first heart problems.
He's 5-foot-10 and had let himself balloon to 230 pounds before starting a weight-loss regime and dropping 15.
Losing some weight didn't keep him safe
But that didn't prevent a heart attack in 2007 that required quintuple bypass surgery.
After that he tried to stay away from red meat and other high-cholesterol foods.
"Not totally. I'd say 70 percent of the diet was plant-based: rice, beans and a lot of vegetables, a lot of salads and things."
He took off another 15 pounds.
Then came a second heart attack five years after the first. It was an unusually warm October day in 2012, and he'd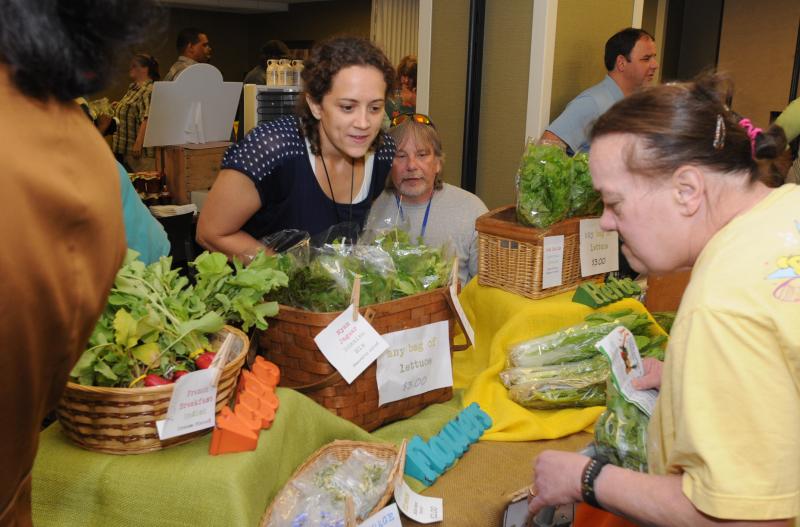 just finished setting up the farmers' market he manages at St. Elizabeth's Health Center in Youngstown.
"I just felt the symptoms coming on, the headache and some chest pain. I ... realized it was more than just a heat stroke. So I went and admitted myself to the hospital and within about 10 minutes, Dr. Sweeney was starting the operation and I had a stent put in. So it was very fortunate that I was here and good that they could respond that quickly to it."
Now he's seriously vegetarian
Since the second heart attack, he's eaten only plant-based foods and dropped another 15 pounds. He's now tipping the Toledos at 185.
Converse has handy resources for his new diet at the farmers' market he runs every Saturday on the grounds of the First Unitarian Church in Youngstown and the monthly one Ida Perez-Zaben is shopping at today at St. Elizabeth's.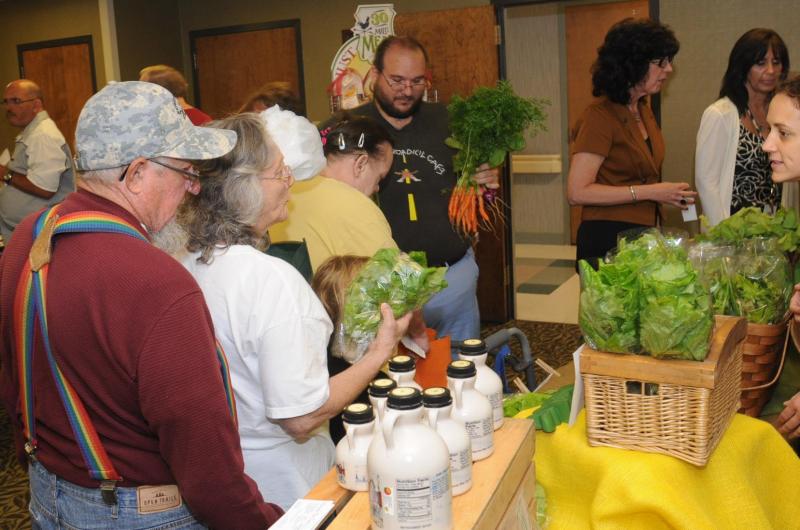 "I just enjoy that we are able to get the vegetables and the fruits. I'm diabetic so we have to eat a lot of vegetables and fruits, so it does come in very handy. ... I love stuffed peppers. I don't fry them; I just bake everything. And that's what I'm heading for, the peppers."
A prescription for change
Last year, Converse was thrilled when the hospital started a spin-off program at the market for its patients and their families. It's called Food RX.
It "treats food as part of a wellness program for people who may have
obesity or diabetes issues where eating a healthier diet could be part of a longer term improvement in their health status. It's been a real benefit both to the market and to the people who buy things. Some of the people have lost substantial amounts of weight and they've had real benefits from eating better."
Food RX is a prescription for healthy choices.
"The program is mainly for vegetables. But they get $20 worth of coupons. Some people don't need $20 worth of vegetables so if they get $10 or $12 worth of vegetables, they can get a small package of meat for like $6 to $8 to finish out their $20 amounts."
He's still pushing St. Elizabeth's to do more with all the fresh food arriving monthly from farms within a 30-mile radius.
"We keep hoping the hospital will do more orders for the cafeteria. And from an institutional buyer standpoint that's really how you grow the sales. But having this program to enhance individual customer buying through wellness, that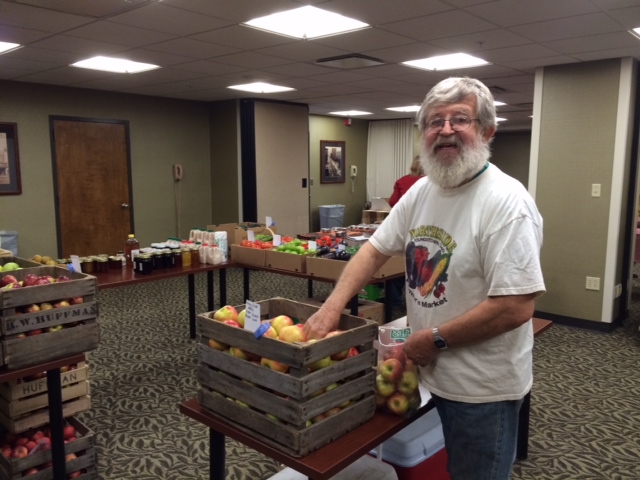 is a big help."
St. Elizabeth's farmers' market used to be in the hospital's lobby but moved last year to dining rooms near the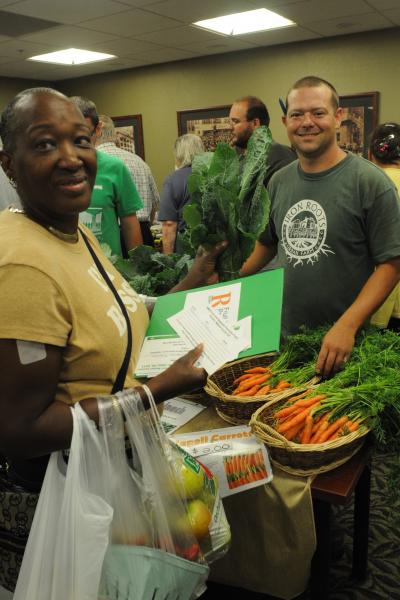 cafeteria and now draws about 300 shoppers once a month from May to October.
About 700 shoppers come year-round on Saturdays to the Northside Farmers' Market Converse runs at the Unitarian Church.
Most of the regulars know him and many seek his advice. He finds sharing diet and cooking tips builds community.
"Finding people you like who cook things that you like is an important part of bonding with people."
His signature bean soup
Converse sometimes shares at the market a Brazilian black bean soup he loves to make with garlic, onion, celery, carrots , red pepper, thyme, basil and Berbere Ehiopian curry powder.
Cooking comes naturally to this son of a home economist and brother to three more. And farming is in his blood. He grew up one of eight kids on a family farm in Columbiana Country.
"We raised all kinds of crops and canned and froze and butchered animals. And we lived a lot from the farm itself. It was a market farm but we got a lot of our food needs so it's almost like a subsistence farm, too."
Cornell turned him on to organic farming
It was at Cornell, where he studied and later taught the sociology of agriculture that he became interested in small-scale organic farming, "which was just beginning to emerge on the national scene in the 70s. And by now it's grown to be a very big emphasis for a whole lot of people, both organic and buying local food. And farmers' markets are one piece of that whole project. Of course at Cornel, there was a very active one, one of the best farmers' markets in the nation."
Working with volunteers and chatting with shoppers at his markets, Converse still sees himself as an educator.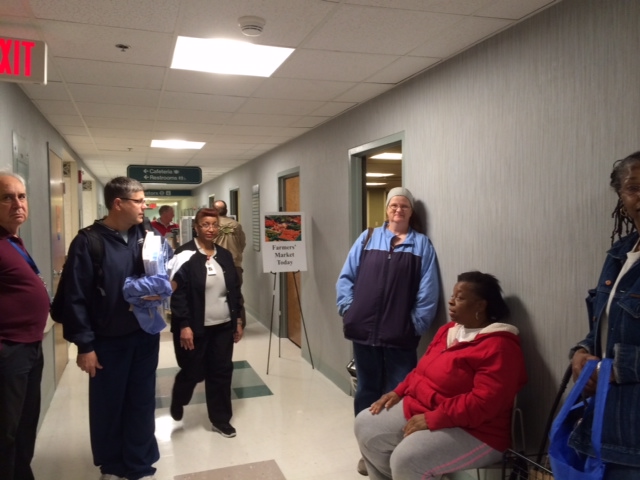 "My teaching is with real people out in the world. I'm sort of a community-level activist, but I don't teach classes. I sort of got tired of academia. We have a new generation now with enthusiasm and motivated volunteers. So I'm excited about them. They work through internships and other programs so we can teach them that way."
He hopes he's also teaching a larger lesson about regional economic development.
"How food can be a bigger part of our local economy. For example, in 16 counties in Northeast Ohio, if we moved up to buying 10 percent of our food locally, that would mean almost 8,000 new jobs. And we desperately need jobs in the region, so that's an area where we're trying to do our part to help the economic situation here."
Sticking to his plant-based regime
As for helping himself, he wants to be a vegan.
"I can't say I am. I work on being a vegan, I'm probably 90 percent there. I'm vegetarian, but I eat a little bit of cheese and salmon once in a while. I don't eat eggs at all. My cholesterol is an issue. I used to eat just egg whites, but I cut those out."
His normal breakfast is steel-cut oats but sometimes he'll splurge.
"Today I had an apple, and I had a rice cracker with some low-sugar raspberry jelly."
It's a tough adjustment at times, but he's feeling too good to complain.
"Everybody enjoys eating, and when you have a big family meal, pot roast, mashed potatoes and gravy and everything, you just eat it. And that's the way we ate growing up. I'm kind of losing out on some of the things I really like, but it's just healthier. And I want to live to be 80. My dad died at 62. It's kind of a spiritual commitment to take care of yourself."
St. Elizabeth's Hospital is committed, too, to its new farmers' market. It'll reopen this spring.
And that's this week's Quick Bite. Next week we visit a restaurant at Cleveland's Shaker Square that's staffed entirely by ex-felons.