Loretta Paganini looks on approvingly as her sous-chef Brandon Torre blends goat cheese, lemon juice, parsley and basil in the kitchen of Sapore.
He'll drag two spoonfuls of the mixture against each other to make quenelles, shaped like tiny footballs, to lay on triangles of low-rising focaccia.
"These are some of the appetizers that we are serving tonight," says Paganini. "Tonight is a little bit different. We have a private party."
But just like most nights Paganini, the restaurant's owner, is suited up in her chef's whites, ready to get cooking.
As she enters her 50s the chef relishes the chance to do more of what she loves best.
"You will see me while I cook, I sing. I'm just very happy in the kitchen. Washing dishes maybe not so much."
Restaurant is her newest passion
She opened the restaurant 7 years ago on the sprawling campus of her cooking school in Chesterland.
"Sapore means taste, because we get to play with your palate."
Tonight's palate-pleasing starter, or amuse-bouche, is piadina, an Italian flatbread, similar to pizza and traditional to the Romagna region of Northern Italy.
Not far from where Paganini comes from: Bologna.
"If you ask any Italian where the kitchen of Italy is they will send you there. And we do have the reputation of being very
happy, jolly, and we like to feed people, to make them happy."
Chef Torre is happy tonight to have Paganini's help preparing a dinner for 18 including salad, soup, pasta, duck filet, mahi-mahi, crème brulee, bread pudding and key lime cheesecake.
"Yeah, I pretty much run the show when Loretta's not here, and then she'll come in. And I'll work the hot line, and she'll work the cold side."

"This is kind of her baby so she loves getting in and working the line as well as anybody else."
Paganini hired Torre as her sous-chef just a few months ago and has already promoted him to manager at Sapore.
"Brandan is a good Irish boy. Right? Brandan Torre? No, actually he's quite Italian. He has a tremendous palate."
The feeling's mutual. "She's a great lady. She actually reminds me a lot of my own mother."
That's how most of her students feel, and she's taught hundreds since opening the Loretta Paganini School of Cooking 25 years ago.
One school for home cooks , another for professionals
The focus at her original school has always been on home cooks, like the group Chef Tim McCoy's teaching tonight.
"So, what I'm going to do is I'm going to get a couple of woks here," says McCoy.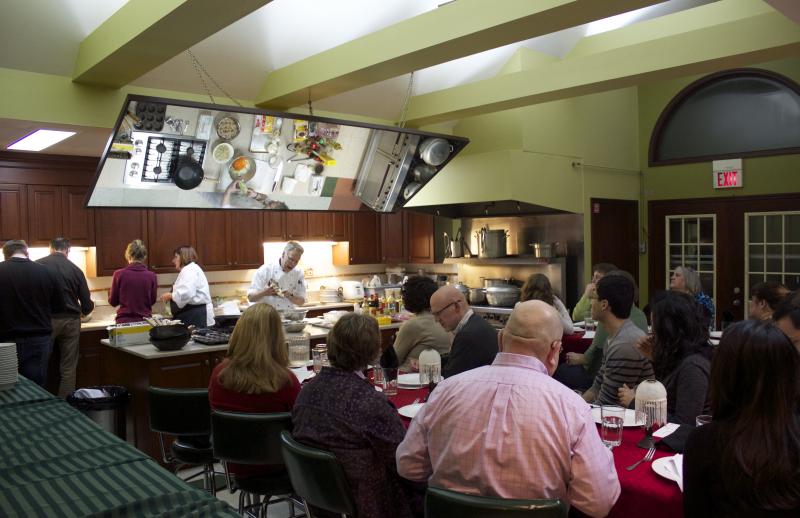 Paganini explains what's going on.
"We have a cooking class celebrating Chinese New Year. So they're learning how to prepare an entire meal."
Chef McCoy's also the education director at the second school Paganini opened 12 years ago right across the street, the International Culinary Arts and Science Institute. It sits on 12 and a half acres, with a lecture hall, a library and 5 professional
kitchens.
Here, she prepares people for professional careers… thoroughly, but just as fast as she can.
"We are not producing enough graduates for the demand. There is a huge demand for trained talent in this part of the world."
Helping change Cleveland's restaurant scene
She arrived in Cleveland, a doctor's new bride, in 1977 and has witnessed the transformation of the town into a foodie mecca.
"We can go up against New York and the big city. We have some fabulous restaurants in our city. And I am proud to tell you that a lot of my graduates, we have 350 since we opened the school, are working in all the top restaurants in Cleveland. So, I feel maybe a little bit that I had a little to do with that change."
She also credits television with raising the level of culinary education in the country as a whole.
"The Food Network has done a terrific job. Look what Emeril has done! I have people that never thought about cooking, and all of a sudden, bam! That's where it all started. And now so many channels are doing food."
Family food business tradition continues

Paganini's been a guest chef on "CBS This Morning" and hosts The Discovery Channel/TLC webcast "Simply Gourmet." She and her daughter Stephanie are regular guests on morning shows in Cleveland. Loretta's mother is a pastry chef and well-known TV personality back in Bologna where the whole family's in the food business.
"Bakery, sidewalk café, they did catering, so I grew up in a kitchen."
Paganini went on to study at the Cordon Bleu in Paris, and that's where the former elementary school teacher discovered her true calling as a culinary educator.
"I am a teacher first. I like to impart my passion and my knowledge to others."
It all began when as a stay-at-home mom she drew raves for the treats she brought to PTA meetings.
"They asked me to teach them how to make all those dishes that in those days were not very common in this country. So that's how I started in my own kitchen."

She taught at first in Little Italy before opening her schools in Chesterland. She also has schools now in North Canton and in Florida. In 2007 the American Culinary Chef Federation awarded her the Educator of the Year Award.
She's still busy at the schools, teaching in Chesterland right along with 15 chef instructors.
"But the restaurant is my baby. One of the nicest things, when people come they will find me in the kitchen there. They tap on the window and they wave. They want to be able to see that I'm there."
Paganini's known for her homemade pasta. Her signature dish: the tortelloni with which she claims she won her husband's heart.
But when she first came to Cleveland, she couldn't find the ingredients she needed. She would go to Bologna and return with suitcases full of food.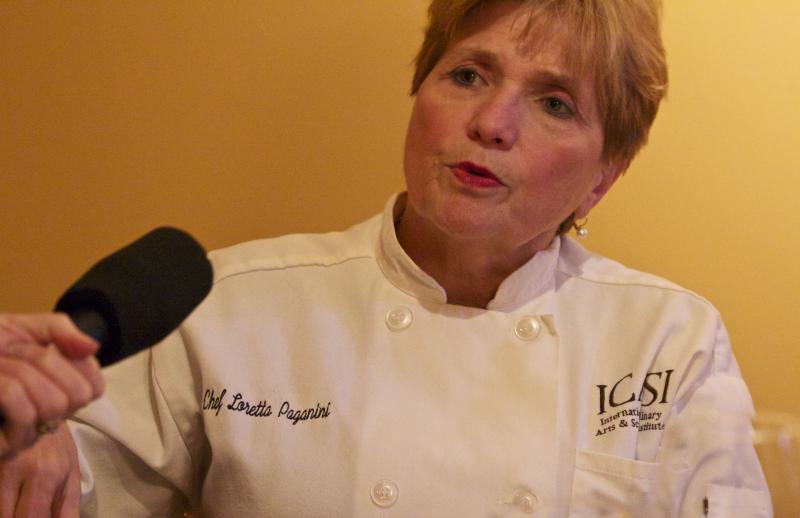 "I was the typical immigrant that I used to go and buy my olive oil, buy my parmigiano reggiano, and bring it to Cleveland."
Stephanie Paganini's just as particular.
"My daughter went away to college with her own bottle of balsamic vinegar."
Stephanie, a former Lake and Geauga County prosecutor, has joined the family business as a director at the International Culinary Arts and Science Institute where she trained as a pastry chef, inspired by her Bolognese grandmother.
"My mother," says Loretta, "could not be happier that somebody is following in her footstep."
Teaching the tiniest chefs
Now Loretta Paganini is a grandmother, too.
"And my granddaughter who is 4 loves to cook. So I'm very proud. And it's important that you develop a palate for these young children. Not always giving them French fries and ketchup."
She says she used to fret along with her friend Julia Child about the sorry state of culinary education.
"She was very concerned as the schools cut down on all their home ec programs because of lack of funds. Who is going to teach these children about cooking, about nutrition?"
Paganini now does at her school. Even the very young.
"Three-year-olds. You have to see them when they crack an egg. It is just fabulous to see."
She also loves to watch her adult students at work. Second –year students prepare lunch most Saturdays for up to 100 guests at the school. It's a chance for them to get out of the classroom and see what restaurant work is really like.
"Chefs yelling at them in every direction. And today they had me sitting at the dining room. I tell you the food that I had today could have been served at a 5-star restaurant. Just the garnish on the food, and the flavor combination. And the seasoning was just perfect, perfect."
Proudest of her students
She's written 3 books, appears on the Welcome to Weight Watchers video, and conducts gastronomic tours of Italy, but she says it all pales in comparison to a graduation ceremony at the Loretta Paganini School of Cooking.
"These children, and I consider them children and most of them are not, but you take them and they succeed and they have a brand new career and something to be proud of. That's my greatest achievement."
That's Loretta Paganini, Chef and culinary educator.
And that's this week's Quick Bite. Next week we'll get you ready for Valentine's Day.